JStock Helps You Create A Watchlist Of Your Stock Investments
JStock is an open source, cross-platform stock market application that gives real-time information to track all of your stock investments. The utility aims to provide current exchange rate information to stock market enthusiasts, investors, stakeholders, businessmen or even students who are looking to study latest market trends and current stock market updates. The built-in Stock Watchlist feature supports a total of 26 world stock markets including Australia, China, Denmark, France, Hong Kong, India, Italy, Malaysia, Norway, Switzerland, United States and United Kingdom. You can create multiple watchlists if you want. As of now, the program grabs public data from Yahoo! Finance. Being a comprehensive stock market tool, it allows portfolio management and setting SMS or email alerts to keep abreast with latest stock market updates. If a particular stock  reaches its selling or buying share price, you can chat with other members to gossip about hot market tips. You may also store entire database on your computer or on cloud to access it from anywhere.
Jstock is a multilingual tool that offers an appealing GUI with five different selectable themes (Metal, Nimbus, CDE/Motif, Windows, Windows Classic). It contains five different tabs for organizing the stock market, including  Stock Watchlist, Stock Indicator Editor, Stock Indicator Scanner, Portfolio Management and Market Chit Chat. When you launch the application, it automatically gets connected to the stock exchange server database. The are nearly five thousand stock companies listed in the database, but you can always add a stock symbol manually from Database –>Stock Database menu. To add stocks to your Watchlist, click Edit on the menu-bar and then Add Stocks. Here, you can select stocks based on entire stock market, boards (NYSE, Nasdaq, AMEX, Pink Sheet and User Defined) or industry. After making your selection, click OK to display stock information on the Watchlist such as company's symbol, code, share price etc.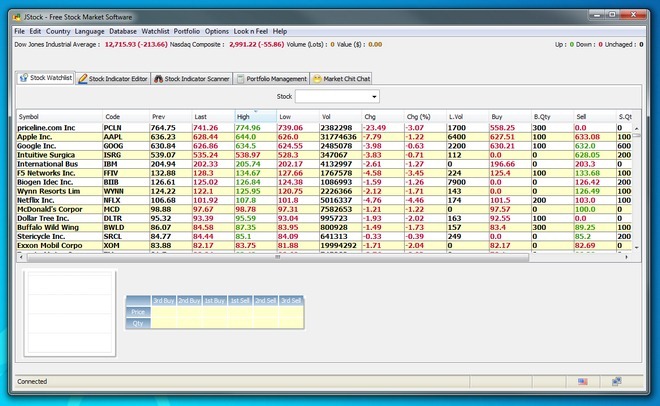 As mentioned earlier, you can set alerts for certain buying or selling stock points. To do so, click Stock Indicator Editor tab to manually set the alerts. If you want to check industry trend, let's say for NASDAQ board,  you may click Nasdaq Composite on toolbar to open chart diagram showing price and volume fluctuations during the years. It also allows you to do various technical analysis of the statistical data.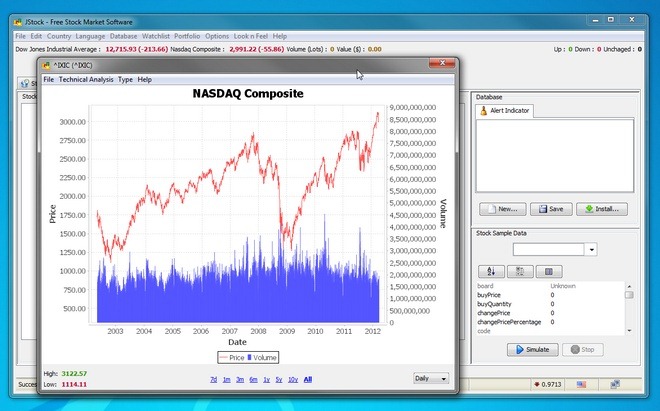 Portfolio Management tab lets you buy and sell company stocks. You can also set dividends on your purchased shares by clicking Dividend button. Clicking Cash opens Cash Deposits and Withdrawals dialog to easily add, edit, and delete the cash deposit and withdrawal amount.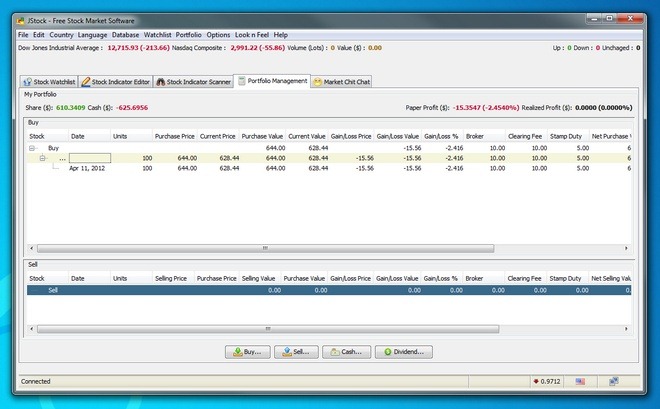 You may customize the application by heading to Options from the menu bar. Here, you can set broker fee by inputting Broker Fee, Stamp Duty and Clearing Fee for the broking firms. The Wealth menu gives options like currency conversion and expected profits in percentage. Head over to Speed to configure stock scanning speed in seconds. Other settings include Alert, GUI, Color, Network, Indicator, Chat and Update.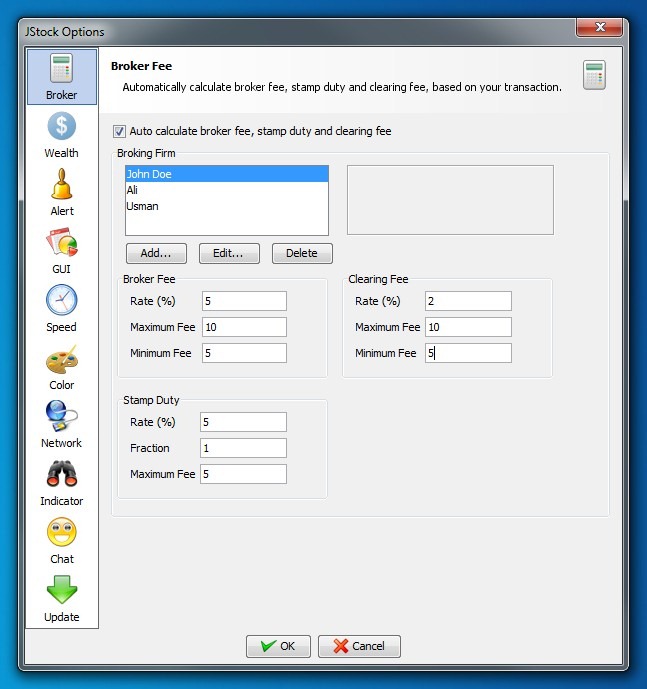 The application works on Windows, Linux, Mac OS X and Solaris, provided you have JRE (Java Runtime Environment) installed already. Both 32-bit and 64-bit OS editions are supported.