Keep All Applications Up-To-Date With Glarysoft Software Update
Software installed on our computer often require being updated to work properly. There are three problems that usually arise here, some applications have check of update disabled by default, some do not have this option integrated, and even if all your applications have the built-in option to check for updates, knowing which one is updated requires you to open them all turn by turn. If you want to keep all your applications up-to-date at all times, regardless of which ones you most frequently use, Software Update by Glarysoft helps you keep track of updates installed software on your computer. Software Update lets you check and download updates for installed software rather than having to deal with several periodic prompts from multiple applications. You can also schedule a time to check and receive updates. When an update is available for an application, you are provided with information and a download link from the Glarysoft software library, where all the latest software update information are submitted and stored.
Once the application is launched, it quickly starts scanning your computer for currently installed application and displays respective application updates. Click update link present above Refresh button to download updates of  programs.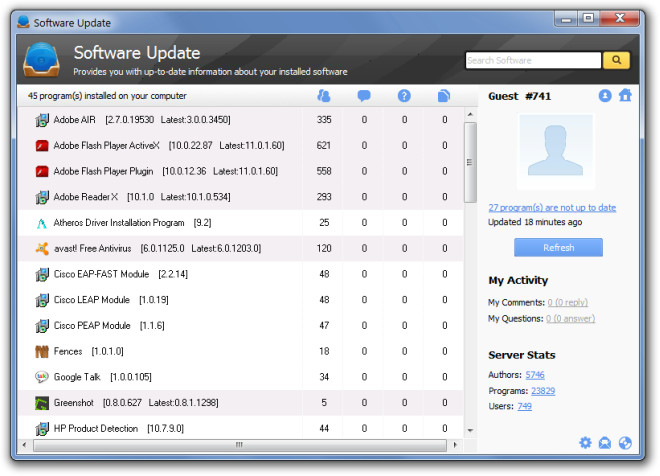 This will redirect you to a page on the GlarySoft website (via your default browser). You will be provided with the updated version, ratings, and download link for the software. Click the Download button or application name to get desired updates. This mechanism ensures that software updates will not automatically get installed, handy for people who prefer keeping older versions of a few applications.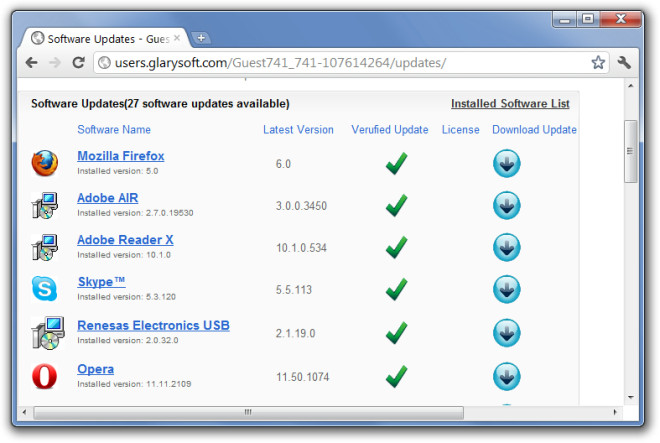 You can click Settings from the main menu to automatically start Software Updates at Windows logon, set a time for checking updates (e.g. every 12 hours, every day, every 4 days, every week, every month, etc). If you have a Glarysoft account, you can also ask questions, leave comments on latest software update. It seems that Glarysoft is trying to build a community for its users where they can rate applications, ask questions and provide answers. By default you are logged in as guest with limited privileges.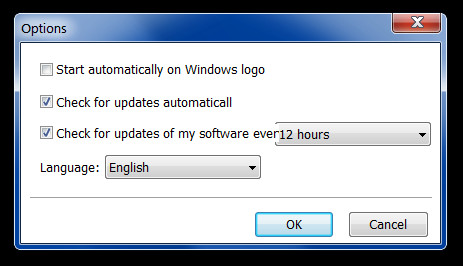 It is worth mentioning here that Software Updates seems to be in its early development stage and for this reason some software update links may not work. This is because the GlarySoft library may not have been updated as yet for the particular software. Software Updates works on Windows XP, Windows Vista and Windows 7.