Keep Track Of File Uploads And Changes With Romaco Log Master
It becomes quite hard to manage websites especially when you need to keep a constant check on all the uploaded files/folders and other important file changes. Even though you can keep an archive (which is to be uploaded) under yours scrutiny, it is a bit cumbersome job to always keep track of the files which are to be uploaded or replaced. Log Master is a small application which operates on logging each & every file that you upload, move or replace. Moreover, it can also be considered as a complete management tool for organizing all the files – images, videos, documents, and other media files while keeping a separate log as defined by the user. The application working is based on creating LOG files, accompanied by multiple types of filters.
According to the developer, the application is not necessarily meant for managing website uploads, if someone is facing any difficultly in streamlining one huge pile of files, it can create logs upon specific Entry Type to ensure that nothing will be missed or misplaced.
The Entry Types plays a vital role in managing the folder containing files, there are multiple types you can select from the given list which includes; Changed, Created, Removed, Uploaded, Moved, etc. It is also possible to create a new entry type. All the options and tools to create a user-defined log are given on the interface. For the first time usage, you need to create a new user and if necessary a root directory folder. The application offers handling of 10 users, so you can manage multiple users logs entries under one roof.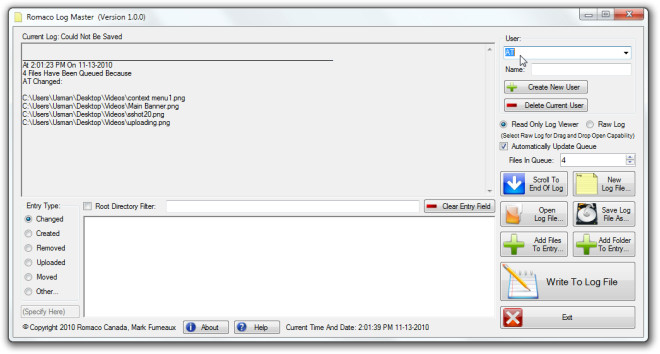 The right sidebar holds the main options to manipulate the logs entries, for adding files to the log which is being created, click Add Files To Entry, you can add files in bulk and create a log to track-back all the selected files anytime in future. The Entry Types are listed on the left side, before saving a log file, you can either change the Entry Type or keep the default option enabled – Changed. All the content and entries of the current log can be seen in the main window, it will also show you the reason of new log entry being created.
Furthermore, it comes with two types to view log files, the Read Only Log Viewer keeps log file locked, preventing user from changing log entries, other option is Raw Log which lets user make appropriate alterations to current log file. You can also manually save the log files, aside from saving entries in TXT format, it offers native rlog format for better handling of log entries.
During our testing, it worked seamlessly on Windows 7 x86 system, while it supports Windows XP/Vista/7.