KeyboardExt: Quickly Locate & Launch Applications Using Hotkeys
Both shortcut management and hot key applications are created in order to make using Windows easier and quicker for the users. Keyboard hotkeys allow you to perform the required task in a lot less clicks and key presses than normally required, and a shortcut manager lets you have a lot of program, file and folder shortcuts on your screen without cluttering the desktop. KeybardExt is an versatile application for Windows that allows you to completely manage keyboard shortcuts, launch applications, send keystrokes to applications and extends Windows Explorer keyboard shortcuts. It has built-in capability to handle and manage screenshots and can also be used as a quick way to search for items in your Start menu. The tool allows you to quickly locate and launch applications, open documents, play MP3 files and access other files from system folders. Users are allowed to choose the applications to run from locations, such as Start Menu, Quick Launch, or other user defined locations. The application provides you with a replacement for Start/Run dialog box, lets you create hot keys to be used with specific applications or globally and much more Read on to find out more about KeyboardExt.
By default, the application provides you with the list of applications and other items available of your desktop to run directly without having to navigate to their respective folders. All the items are displayed in a list with their Item/Shortcut name, Type and Path. Just double-click an item to run it.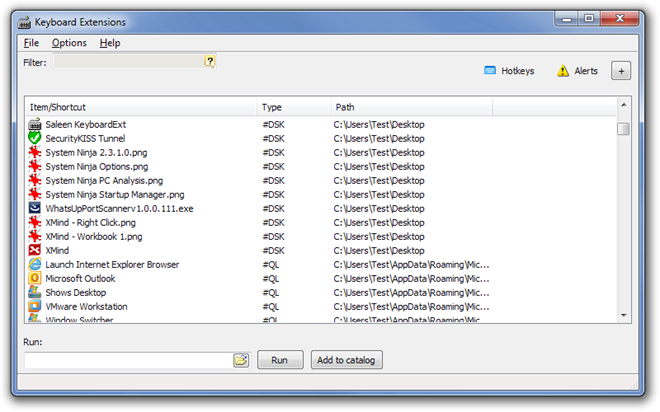 The features of KeyboardExt according to the  developer are as follows:
Quickly locate and launch programs, documents, mp3s and other files from system folders (e.g. start menu, quick launch folder), or other user defined locations
Enhanced Start/Run replacement dialog that includes searchable history
Create global or application-specific keyboard hotkeys
Integration with Windows Explorer, to compare directories/files, copy file names, launch command prompt, backup folders etc
Captures screenshots in PNG format
Notification alerts (one-off / recurrent alerts)
Task scheduler (one-off / recurrent tasks)
The Options menu available at the top lets you edit system hot keys, set Wdinows Explorer settings, specify Search Paraments and choose paths for backup and screenshot saving folders.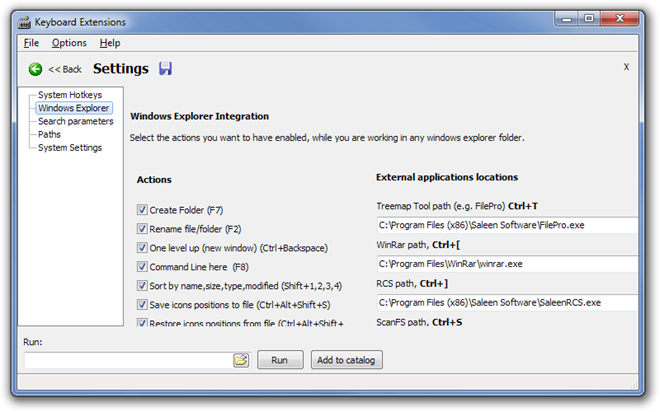 The File menu has tools such as Alerts, Hot Keys, Screenshots and Manage catalogs. The Hot Key window lets you create hot keys for launching applications. Click New Hotkey, enter the required details and click Add Hotkey to create it.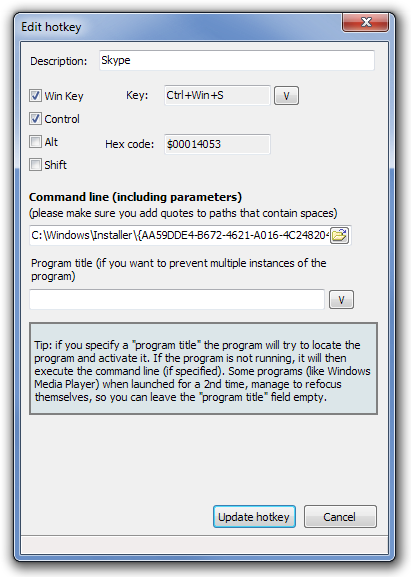 This article covers only the basic functionality of KeyboardExt, and the complete list of features can be viewed on the product page. It works on both 32-bit and 64-bit versions of Windows.