Launcher: Manage Shortcuts For Applications, Files, Folders & URLs
Shortcut managers allow you to access your frequently used applications, files, folders, URLs etc, directly from the desktop, without cluttering it up. Having too many icons make the desktop look dirty, and the wallpaper gets permanently hidden behind them. Shortcut managers let you keep the desktop clean, while having access to your favorite shortcuts. Some days ago, we covered a portable shortcut manager called Quick Pop Menu that let you manage and access shortcuts for frequently used applications. Even though it is a great application, it only supports application shortcuts. If you want a portable shortcut manager that can handle application shortcuts, as well as website links and shortcuts to local files and folders, give Launcher a try. It is a tool for Windows that allows you to easily create shortcuts for your favorite web pages, frequently used files & folders and applications. You can run applications, with command line parameters, directly from the Launcher menu. If you are fond of having a lot of shortcuts, you can group them together into separate folders. The application allows you to create unlimited folders for organizing shortcuts into separate categories. More on Launcher after the break.
The application runs in the system tray after installation. Right-click its icon and select Manage items to create new shortcuts and manage old ones. It allows you to create shortcuts via drag & drop. Shortcuts can be created for applications, files and folders on hard disk or LAN, internet and web page links, while menu folders and separators can be added for better management. Click Save when all shortcuts are added and edited.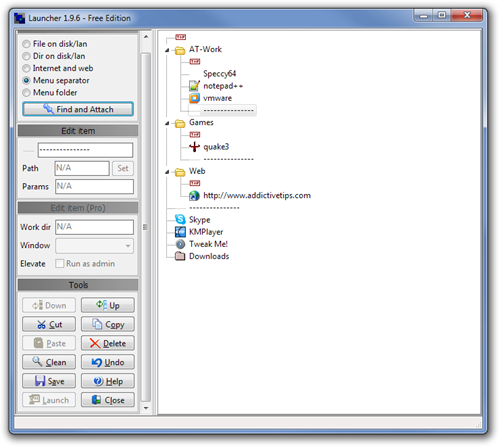 Once the shortcuts are added, they can be accessed directly by clicking the application's icon in system tray. The folders are available in the top part, while the directly added shortcuts are available below them. Each folder can be used to group similar types of shortcuts together.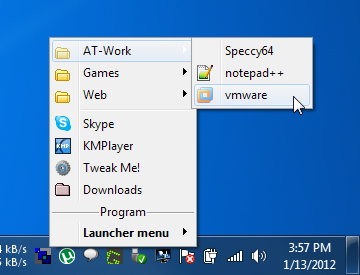 The Preferences window allows you to configure default application settings for Visuals and hot key for accessing the menu. You can change the Size and Style of shortcut name text, make the text bold, and choose to override Windows default drawing.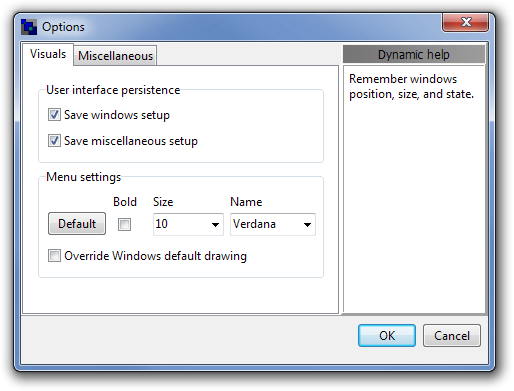 Launcher can be downloaded as a free product, as well as a paid one, which contains more features. A complete comparison between free and paid applications can be viewed on the product page. It works on both 32-bit and 64-bit versions of Windows XP, Windows Vista, Windows 7 and Windows 8.