LinkExaminer Scans Website For Broken Links, Duplicate Content, And Missing SEO
If you are a webmaster then you will know how important is SEO, internal linking, using no-follow in some circumstances, etc. If you have broken links or duplicate contents, then it will dramatically effect your website listing on popular search engines, such as, Google and Yahoo. There are various SEO tools that allow you to check for broken links, duplicate content, missing keywords, and more. But these tools are too complicated to use and some are too expensive to afford, while others are not perfectly accurate.
AnalogX LinkExaminer is a free webmaster tool for Windows that allow you to examine all links in your website or blog. It is a powerful tool that shows the following information about every link, HTTP Code, HTTP Message, Internal, Robots.txt, NoFollow, Dynamic, Relative, SEO(Missing Keywords), Title, Depth, In/Out, Last Modified, Link Type, Duration, and Similarity(Duplicate content).
To scan a website, click Scan > Set URL and enter the website link. Once done, click Scan > Start to begin the process instantly. You can stop the process anytime by clicking Scan > Stop. The details of the whole activity is shown in the status bar where you can see how many links have been processed and how many are remaining.
To view further details about a link, right-click any link and select View link details. You can also open the link in a browser and copy URL to clipboard. Apart from it, the two most important options include Google links to URL and W3C Validate URL.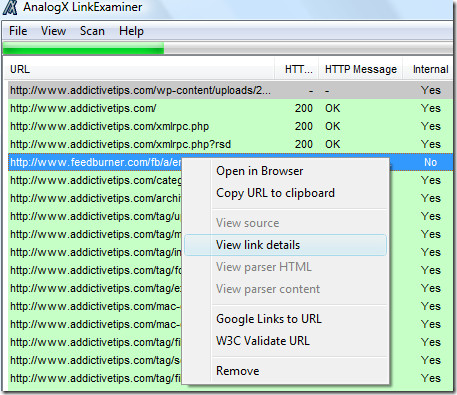 Once the process of examining the links is complete, you can search for any specific string or filter the results by Error, Internal/External links, Redirects, and Unprocessed.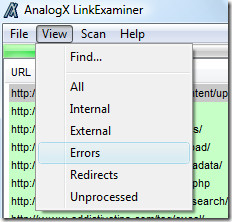 The results can be saved in a log file and can be exported as a Text file(URLs), CSV file, Sitemap(XML), and Report(HTML).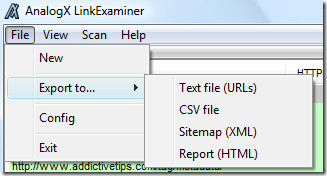 The default settings are optimal to perform scan of any website, but if you want to change the configuration or add some exclusion rules, go to File > Config. Below I have included four screenshot of configuration window, General, Exclude, Harvester, and Parser.
Ofcourse, to check broke links and errors, there is always Google Webmaster Tools. But this is the first desktop tool that has far exceeded my expectations. Give it a try and you will know what I mean. It works on Windows 2000/XP/Vista/7. Enjoy!
To find other tools by the same developer(AnalogX), have a look here.