Locate And Filter Visual Studio 2010 Solution Files With VSSolutionFinder
Visual Studio Solution file is a text-based structured file that defines the project workspace, containing information regarding the project environment and project state. The solution file groups project related information required to compile and build an application. Just like previous Visual Studio version, Visual Studio 2010 doesn't provide option to locate SLN files from the working directory. Therefore, finding SLN files from the working directory can become difficult when you're dealing with a lot of solutions. VSSolutionFinder is an add-in for Visual Studio 2010 which integrates into File menu, letting you bring up a dedicated search window to find and open solution without having to find them the default way. Moreover, it supports wildcard entries to let you easily filter solutions files.
Before you install the VSIX file, make sure that Visual Studio is not running in the background. After installation, you will find Solution Finder option in File menu.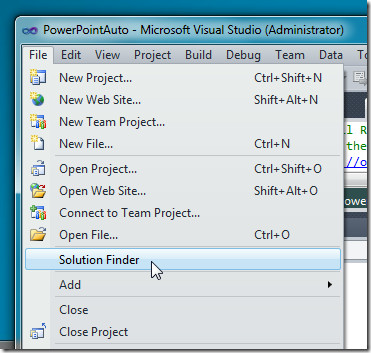 The Solution Finder comes with two sample directories already listed. First select them from Search In Box and click Remove. Now hit Add to specify your current working directory where all of your projects are residing. Once added, close the Solution Finder and launch it again from File menu.
The Solution File search box lets you find solution files in real time. Just enter the keywords to find the matching solution file titles. To open solution, simply double-click required one from the list or select the solution file and click Open. The wildcard entry, like, asterisk help you find all solution files containing keyword at defined place in their titles.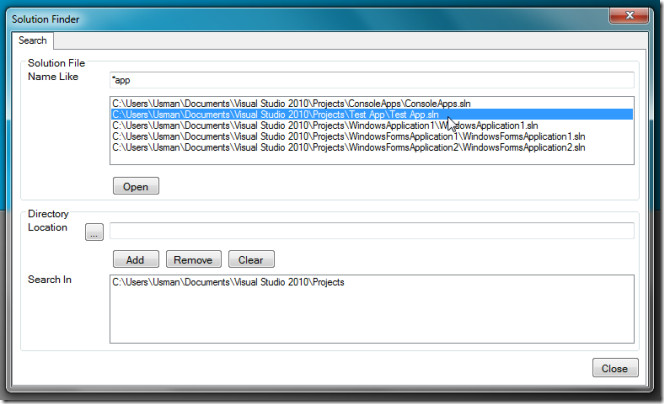 VSSolutionFinder works with Visual Studio 2010.