Fast Duplicate File Finder: Locate And Manage Duplicate & Similar Items
Duplicate files present in our hard disk create clutter and waste precious storage space that can be used for other important documents, files and folders. If you spend a lot of time on a PC, it is not unusual to accidently have multiple copies of the same document or file in different memory locations. When you download a file from the internet, for instance an image, it is possible to forget about it and download it again after some time resulting in having two files with the same content. You can ignore the multiple files but that creates clutter in your system. Looking for them and deleting them manually is a difficult and time taking task. What you can do is use a tool that locates the duplicate files and lets you delete them from an easy to use interface. Fast Duplicate File Finder is an application that lets you quickly find and locate duplicate, as well as similar, files and folders present in your hard disk. You can then select the duplicates in a batch operation to move or delete them, freeing up hard drive space, and avoiding cluttering of your file system. It uses fast binary comparison algorithm and has preview support for documents and images.
To start, click New Project button on the top left corner and add the drives and folders to search for duplicates. Once the folders are selected, click Start Scan button at the bottom right corner to begin the search process. After the scan is complete, a summary is displayed of all the duplicate groups and files found in the select drives and folders.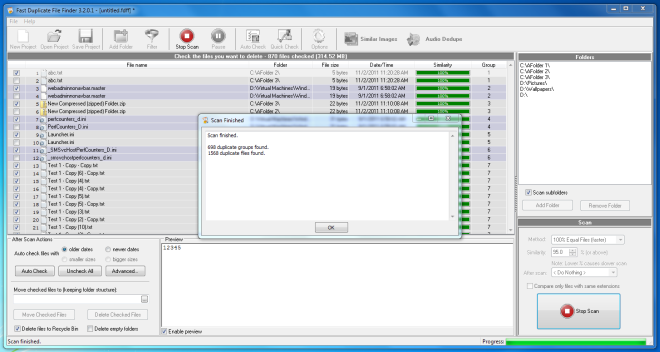 You can also perform post-scan actions to auto check the files according to older or newer dates. To auto-select the old dated duplicate files, select older dates in the After Scan Actions menu available in the bottom left corner and click Auto Check.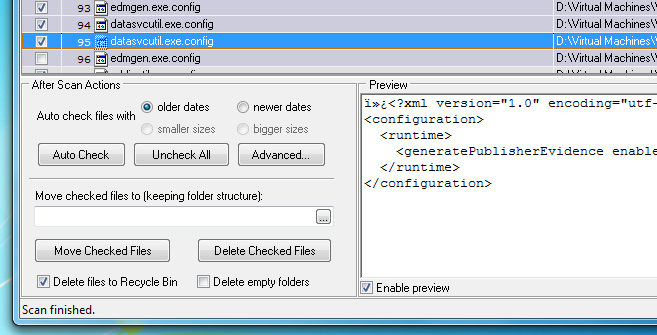 Click the Options button at the top to access settings related to Process Priority, Enable/disable logging, View of checked files and Column view options.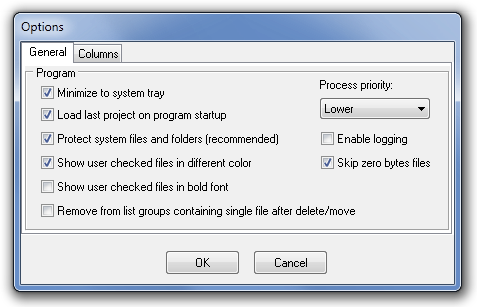 Fast Duplicate File Finder comes in both free and paid flavors. The free version has limitations regarding Filter functionality, in that it cannot open files with associated applications, cannot export results to XML or CSV file, and so on. The complete comparison can be found on the developers website. Fast Duplicate File Finder works on both 32-bit and 64-bit versions of Windows XP, Windows Vista and Windows 7.
Download Fast Duplicate File Finder