Prevent Editing Of Windows 8 Start Screen Layout With Tile Locker
The Start Screen feature of Windows 8 is quite impressive if you put it to good use; it provides quick shortcuts for desktop and metro apps, files, system tools and other useful items in the form of interactive tiles. These tiles are pretty much customizable in a lot of ways. For instance, right-clicking a tile gives you options to pin or unpin it, change its size, and turn live tile on/off etc. Similarly, you can easily change the tiles arrangement to your liking by simply dragging and dropping them. However, Microsoft hasn't provided an option to lock them all into place to prevent any accidental changes. Just imagine a situation when you have meticulously created different tiles layouts and someone alters them without your consent, or you yourself mess it up by mistake. Fairly annoying, right? Tile Locker aims to help you get rid of this nuisance.
Tile Locker is a tiny Windows 8 application that allows you to lock or disable the aforementioned features with a single click. By using this tool, users are able to disable the app bar buttons pertaining to Start screen customization, as well as block rearrangement of the tiles via making them non-selectable. The screenshot below demonstrates the app bar with the default options that you get via right-clicking a metro app tile on the Start Screen. With Tile Locker, you can easily disable these options without any hassle.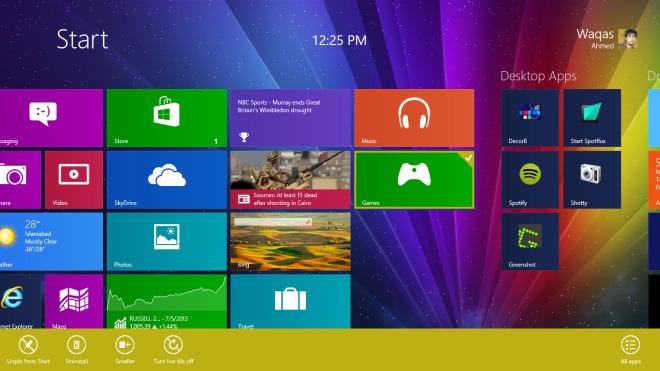 The application comes in form of a portable EXE file and doesn't require to be installed to the computer.Its usage is dead simple too; just download the tool using the link given at the end of this review and extract the contents of the downloaded ZIP archive. You will need to run the program as Administrator.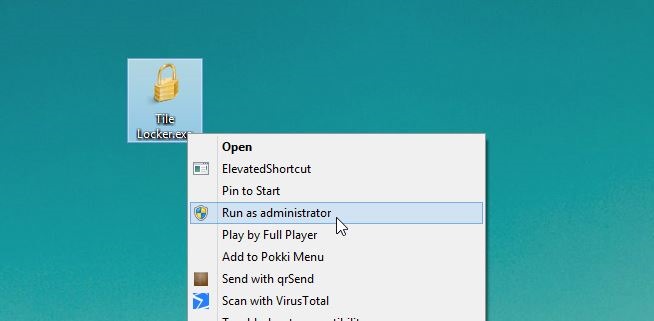 The tool comes with a minimal UI that carries nothing but two buttons to the left labeled 'Enable' and 'Disable'. Now here's the tricky part. Upon clicking 'Enable', the application will basically disable all the customization features of Start Screen tiles as well as prevent their rearrangement. Likewise, by clicking 'Disable', the application will disable the lock, meaning you'll get access to the app bar, and will be able to rearrange the tiles again.

After enabling Tile Locker, you will need to either log off and sign in to your account again, or restart Explorer.exe from the Task Manager for the changes to come into effect.

After applying the changes, you will notice that you are no longer able to access the options in the left section of the app bar upon right-clicking the Start screen; 'All apps' will be the only option still available there. In addition, all the tiles will become unselectable, thus you will also not be able to rearrange them.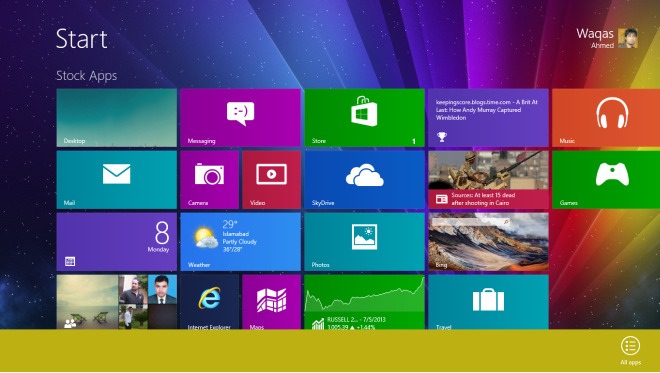 Tile Locker is a portable application that works only on Windows 8. Testing of the app was carried out on Windows 8 Pro, 64-bit edition.