Lock Keyboard, Mouse, CD Drive With Toddler Keys
Back in 2009, we covered a tool called Kid-Key-Lock, which is written to prevent kids from pressing keys on keyboard and mouse. Mistakenly pressing some keys can lead to serious problem like, your important files can be moved, deleted, or running application can be closed. Today, reader Aaron, shared another tool called Toddler Keys, which allows users to lock down major components and peripheral devices of their PC. You can lock Keyboard, Mouse, CD Drive doors, and Power-Off button. While all the devices are locked, it shows user-defined images and play sounds when any keys are pressed.
Editor's Note: If you have a a family computer where are you working on some important task, it is always recommended to save it and then lock your Windows. All it takes is two hotkeys, Ctrl+S to save, and Win+L to lock.
You can specify different sounds and images for adding an element of fun for kids. Once the application is installed, it will sit in system tray, letting you quickly bring it up to lock up the keyboard, mouse, drive doors, and power-off buttons.
Under Options window, you can change the options to lock other drives, at the left side it lists down all the drives while at right side, you can enable options like; displaying of 'how to unlock keyboard back' message, disable keyboard auto repeat for Toddler keys, and display images with sound while keyboard is locked. You can also schedule the keyboard/mouse lock after a specified period of time and change default unlock phrase (quit).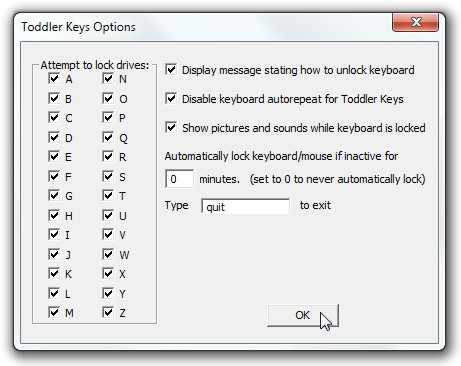 You can also manage sounds and images which are to be played and displayed respectively while your system is locked. Click Manage Picture/Sounds in system tray's menu to specify sound and image files.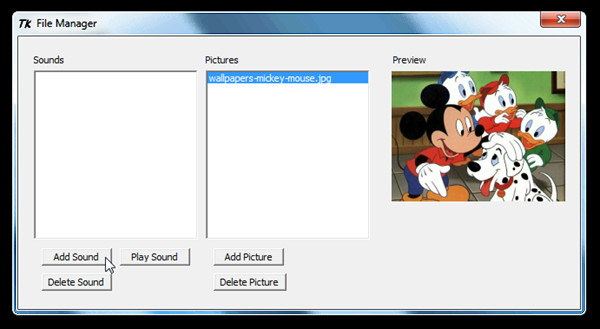 It is recommended to choose a simple but long unlock phrase, so you can easily remember it for unlocking the system. It runs on Windows XP, Windows Vista, and Windows 7. Testing was done on Windows 7 x86 system.