Lock/Unlock Your PC Using USB Drive With Password Booster Screen Lock
While stepping away from the computer, it is important to lock the screen in order to avoid anyone else using it. Some organizations, such as banks are very strict about locking your work station before leaving your chair, even if you are going just for 5 minutes. In case you forget to lock the PC, you can get into trouble. The problem is that if your computer contains sensitive information, anyone can simply look at it, or copy it, and use it in any way possible. For instance, if someone gets their hands on your financial information, they can cause you a lot of problems by using it maliciously. Password Booster Screen Lock locks your computer screen by using your USB flash drive, hence giving an experience similar to using a physical key on your Windows PC. Once you register a USB flash drive with the application, you can lock computer screen just by unplugging it. The program lets you register and unregister more than one USB flash drives at a time, making it ideal fit for multiple users. The program can be useful on public and shared computers. Once you register your USB flash drive, you don't have to worry about someone else interfering with your work even if you have to leave your PC unattended for some time.
The application's interface comprises of Enable and Disable buttons to turn locking on/off, and a Setup button to register a USB flash drive. You can also enable/disable the application by right-clicking the system tray icon (default is enabled state).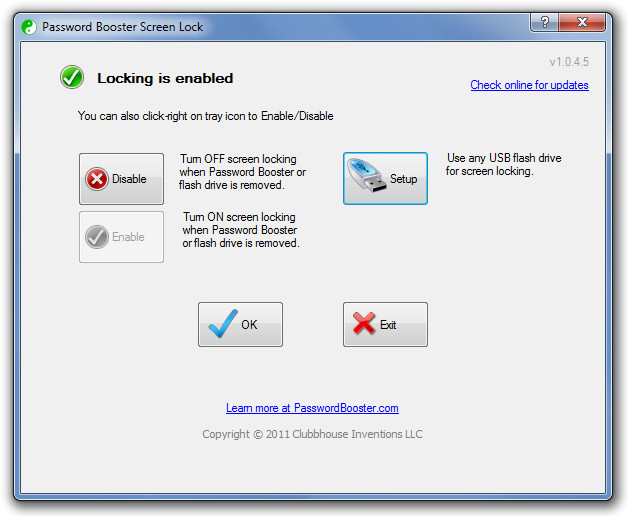 To get started, first register a USB flash drive by clicking Setup and select Enroll a flash drive to make it the locking device. Once done, insert a USB flash drive in your PC (remove and re-insert if its already in your PC) and it will be automatically registered. You can un-enroll a registered flash drive in the same way.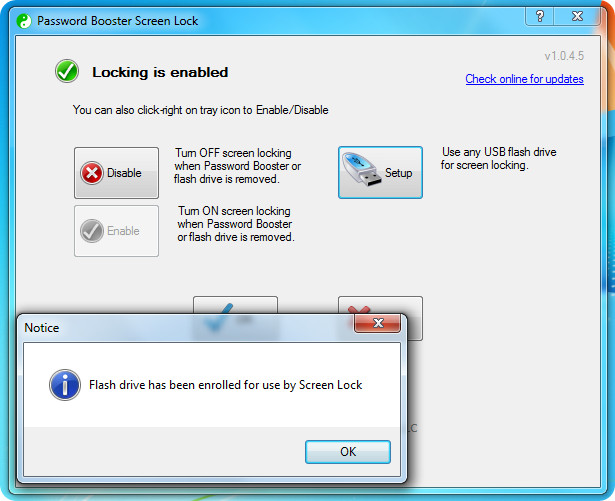 Now remove and re-insert the drive once to activate the locking mechanism. The next time you remove the registered USB flash drive out, your computer screen will automatically get locked. You can unlock the screen either by inserting the USB flash drive, or by entering your Windows account password, since it does not disable the native lock process. Password Booster Screen Lock is almost similar to previously reviewed WinLockr application, and works on both 32-bit and 64-bit versions of Windows XP, Windows Vista and Windows 7.
Download Password Booster Screen Lock