Log In To Multiple Skype Accounts On PC Startup With Skype Launcher
Skype provides its users with one of the best audio call, video call and instant messaging services. Skype's usefulness is not limited only to communication but also offers a host of other functions. You can also use Skype for screen sharing and sending files to your contacts (even though I myself hate to use the Skype file transfer service). Apart from these built-in features, plugins and third party applications also extend the utility of Skype to greater levels by providing users with tools and extensions that integrate with Skype and perform various functions. Do check out some of the awesome features and tools to supercharge your Skype experience. These extended capabilities make Skype a utility not only for using in homes and personal interaction, but also for educational and professional purposes. Skype Launcher is an application for Windows that allows you to log in with multiple Skype accounts at a time on one PC.
The application's usage is pretty simple. Just download the application and add all the Skype addresses that you require to login on system startup. In the Skype Launcher Configuration window (accessible from the start menu folder of Skype Launcher), you may add multiple accounts. To add multiple accounts to the list, just Add from the lower left corner and enter the Skype username of the account that you wish to add. You can have as many accounts as you want in the list. From the right side, you can specify different settings, such as Delay Launch on Boot, Disable Notice Autologin, Use Alternative Login, Wait For Login Complete, Force Workaround For Skype, Double Timeouts etc. If you check the Start Skype Launcher on Login option, the program will be launched at windows start up and it will try to sign in to all the entered Skype accounts. The reset Settings to default button at available at the top right side lets you revert any changes that you have made and switch back to normal program settings.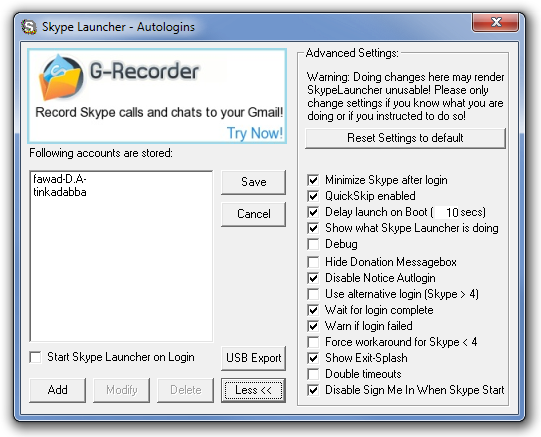 When you run the application, Skype Launcher will login all your accounts one by one with the specified delay. You will receive notifications in the middle of your screen for every account  being logged in.

The notification that appears when the program is logging into all your Skype accounts looks really ugly and can definitely use a graphic change. Skype Launcher works on both 32-bit and 64-bit versions of Windows XP, Windows Vista and Windows 7.