LookDisk: All-in-One Search Tool With Text, Archive & Duplicate Lookups
Previously, we have covered some very useful tools for quickly searching through files and folder by defining certain criteria and specifying parameters, such as UltraFileSearch and SearchMyFiles, and applications that allow you to search and delete duplicate files and folder on your system, like NoDupe. Today, we have a portable tool for you, called LookDisk that combines both these functions and allows you to search duplicate files, files and folder using filters, such as file size, date and attributes, search for text in any file including PDF, displays the disk overview and search within multiple archive formats. More on LookDisk after the break.
The application has four searching modes separated by tabs given on the left side of the main interface. The four tabs are named Find Duplicate Files, Search Text, Search Files and Disk Overview. According to the developer, the application comes with the following features.
Search for duplicate files by name or content
Search for files using various parameters (file size, date, attributes)
Search for a text in any file (also within PDF Files)
Display disk overview (total size, free space)
All search functions support following archive types: ZIP, CAB, ARJ, RAR, LZH, 7-Zip, TAR and GZIP
The first tab, Find Duplicate Files allows you to find, as the name suggests, duplicate files on your hard drive. It allows you to search specific drives or specific folders for duplicate content, duplicate file name or by ignoring files extension. Once the search is complete, all the duplicate files are displayed separated by green and white colors.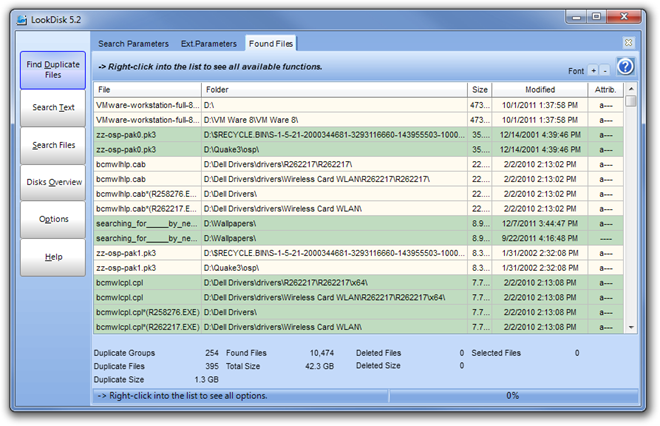 The Search Text tab lets you search for a particular word or phrase within files. The allows you to search using the Fast Text Search, which will disable some searching options, such as Whole words only, Lines shown before text location, lines shown after text location etc. You can also choose to make the search case sensitive.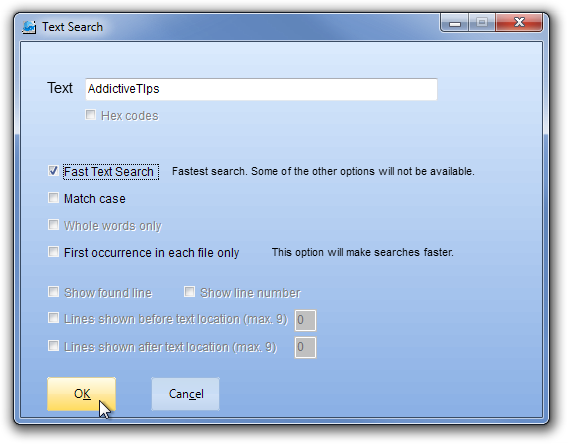 The Search Files tab is the simple file and folder search that lets you search for files using various parameters, such as file size, date and attributes. Disk Overview displays the Drive, Type, Capacity, Free Space, File System, Label and Volume Serial, and lets you find the user-specified number of largest files in the selected directory.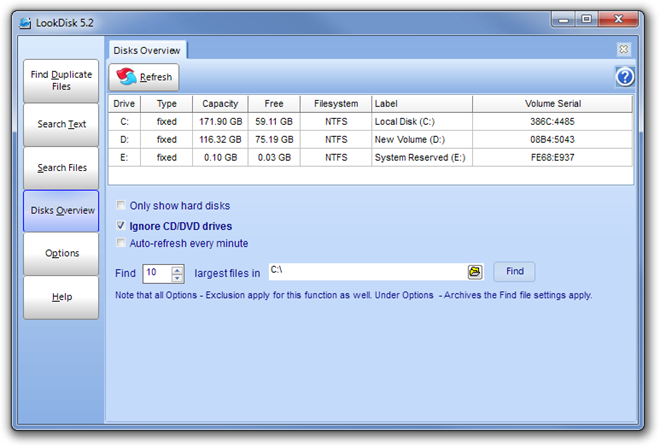 The Options tab lets you toggle General settings, such as Show Search Progress, Enable Multi-Threaded File Searches, Show Found Files In Progress Window, Search Inside Archives and select which archives should be considered and chose folders which should be excluded from all the searches,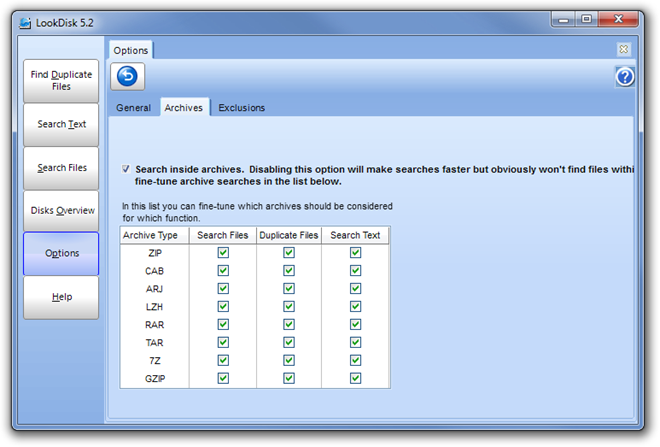 LookDisk is available in both installable and portable versions and works on Windows XP,Windows Vista and Windows 7.