Make Animated GIF Image From Multiple GIF Images
We have covered many posts which are centered around GIF image format, such as create animated GIF from images, convert video to animated GIF, and extract images from GIF among many others.
So why GIF? Because it is easier to distribute animation in GIF format than some video format, and the animation can be created with both images and videos.
UnFreez is a free tool that allows users to create GIF animation from multiple GIF images. The images must be in the same resolution. Just drag & drop the GIF images, set the options, and hit Make Animated GIF button.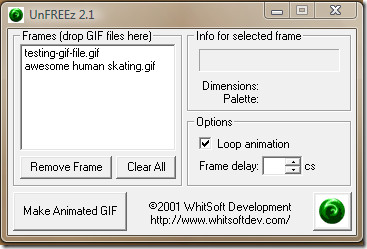 Unfortunately it does have some limitations, like you cannot create an animated GIF from multiple GIF animation images, nor does it convert the images to GIF format. For the latter you can use Image Tuner or Image Format Converter.
It is a portable tool and works on all versions of Windows. Enjoy!