Make ISO CD Image From Folder
ISO Creator is an opensource software that allows anyone to create an ISO CD image from a folder. You can also create ISO with virtual files if a tree representing a directory structure is given.
It can not create ISO from files, you will have to add the files inside one folder and then convert that folder to ISO format using this tool.
Overall, it requires only three steps- Enter the path where you want to save the ISO file, given the Volume a name, and choose the folder that you want to convert to ISO. You can even convert a drive into ISO image.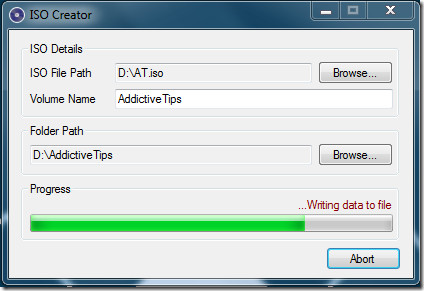 The process to create the ISO image will depend on the number of files and the total folder size. Having said that, the progress was quite fast while we tested it.
It works on Windows XP, Windows Vista, Windows Server 2003/2008, and Windows 7. Enjoy!