Make MP3/Wav Files Louder With Vloud
Have you ever downloaded an mp3/wav file and found that its volume is too low, what can you do in such situations? You will need to increase the volume of your speaker system and will need to revert it back after some time once you are done listening to the file or what if even this does not help? Try an online free service called Vloud, which increases the volume of mp3/wav files.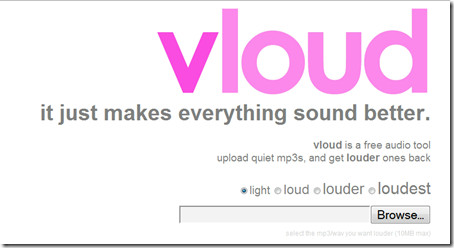 File optimization is a piece of cake with Vloud, just choose the level of loudness for the file from the light, loud, louder or loudest options then upload the mp3/wav file that you want to optimize by hitting the browse button (Just make sure that the file size is less than 10 MB), Once the file is uploaded, it will automatically start the optimization process.

Once the optimization is complete and your file has been made louder you can play it to check the loudness, once satisfied you can then download it.
Enjoy!