Make Time Lapse Video From Photo Sequences
What Is Time Lapse Video
Time Lapse Videos are those videos that are created from multiple still photos. These still photos must have a relation with one another, either you can take still photos of any subject from one location or you can take the photo of an subject from multiple locations.
Making Time Lapse Video
PhotoLapse is a free tool that was developed to turn a set of jpg images into an avi movie. You can use it to create a time-lapse movie from photo sequences.
Just select the folder which contains the photos and hit Load files from current folder button. Select the photos from which you want to create a timelapse movie, to select all photos hit Mark all button. You can also mark every number of frames(photos), for e.g, mark photos 2, 4, 6, 8 etc. Finally select the FPS(Frame per second) and hit Create Movie.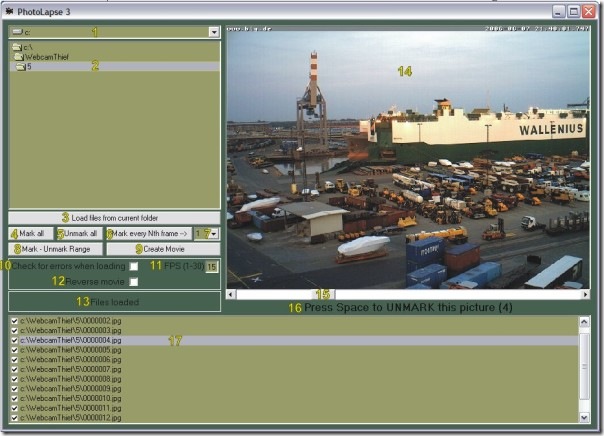 Screenshot above is taken from developer's page
For optimal results, take photos in 640×480 resolution and create movie in 30FPS. The reason why resolution should be 640×480 for photos is that the output video will of the same resolution, thus creating a great time-lapse.
Update: Oops! My bad. I already covered this tool before, you can check it out here. Now I will have to publish it anyway.
Update 2: The latest version 3.0 has more features and a better UI(User Interface). It now contains slider, video is created faster, making reverse movie is now possible, and contains better marking and unmarking feature.
Note that you must have proper codecs installed, I would recommend ffdshow video codec with the following settings:
ncoder: Mpeg-4
FourCC: xvid
Mode: one pass – average bitrate
Bitrate: 10000 (which is the highest)
It is a portable tool and works on all versions of Windows. Enjoy!