Manage Movies, Music, Books, And Video Games Collection With GCstar
In the past, we have reviewed EMDB – an application to sync movies information with IMDb and to catalog them in a real-life looking movie shelf. As far management of movies goes, we found some bugs related with retrieving information from revamped IMDb UI. GCstar is an elegant collection manager which is quite different in comparison with EMDB. While allowing users to keep a track on saved movies, it lets you create a list of almost everything that you wish to collect and manage.  Be it movies, songs, books, anecdotes, vehicles, TV shows, or video games, you can organize each type of collection with an ease. Since collecting and entering information regarding books, music, or movies is quite laborious job, it supports a huge array of online resources to fetch required data without much effort involved.  Data optimization and update feature are also available to keep users updated with latest content and to import data from various kinds of catalogs available online.
When running it for the first time, you will be greeted with a long list of pre-defined items, letting you select the type of collection which you want to manage.
Once selected, it will lead you to main interface for collecting information regarding your chosen items. For instance, to populate the movies management list, click Add Movie and enter title prior to retrieving information from supported online resources, including, MovieDB, Alapage, Amazon, CinemaClock, FilmAffinity, and many more. Before entering information from selected resource, you can also preview the page to verify the content.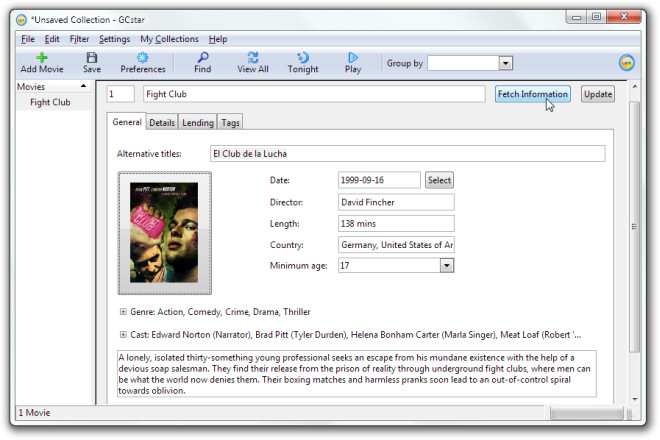 When you're done listing down items, click Save on toolbar to save your collection in its native GCS format. The application comes with a small yet effective loan management system to track down all the items which you've borrowed or lent to others. You can also tag items to filter down the search by borrowed items, name of borrower, specified category, etc. No matter what type of item information you're collecting, it lets you visually analyze the item list on a pie chart. Furthermore, it also logs all the saved information to create an elaborated statistics report.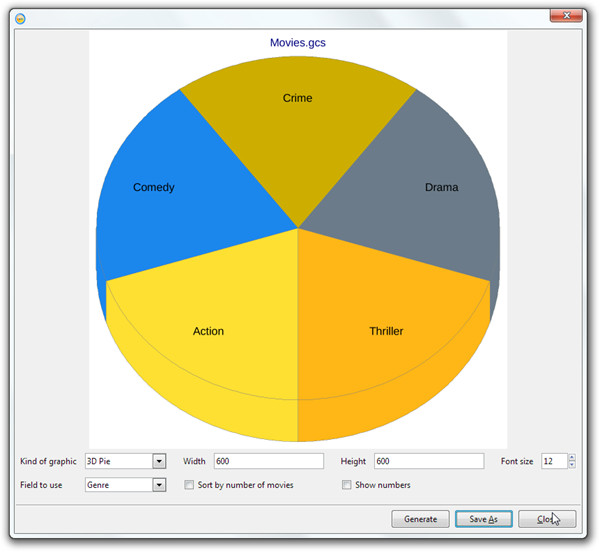 In a nutshell, if you are looking for a good media collection organizer, give GCstar a shot. You would love to streamline your collection through it. GCstar is available for Mac, Linux, and Windows. Our testing was done on Windows 7 x64 system.