Manage & Sync Google Calendar Events And Contacts From Desktop
There are not many stable desktop applications that can sync with Google Calendar, you can use Live Calendar Gadget to get the results but only to be disappointed that it does not support 2 way syncing. Azotix Active Organizer is the first complete windows desktop application of it's kind we have come across, that can create, edit, and remove events from Google Calendar.
Apart from Google Calendar events management and syncing, it can also manage Google contacts and keep track of your contact's birthdays. The synchronization is automatic and even works with Google Apps Account.
On launch it will ask you to enter the Google Calendar login credentials and choose the calendar which you want to manage. The date of events are highlighted as bold while 'Today's date' is circled in red.

To create a new event, simply double-click on a white space in Events window. The Add Event window is similar to what you will find on Google Calendar.
The events tab shows all upcoming events while the Contact tab lists all contacts. The program, even thought still in beta, is quite stable. You can however report any bug you find from within the application. Hit the Settings icon to bring up the small useful Setting dialog window. From here you can choose to start program at Windows startup, start program minimized, ask before removing event or contact, choose if sunday is the first day of the week, and minimize feedback/report bug button.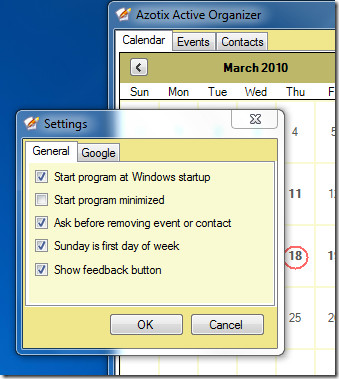 There is a Google tab which allow users to change Credentials, choose a different calendar, and set the synchronize time interval.
Even though the application's main purpose it to work with Google Calendar, there is an Offline Mode as well which can be used to mark events in calendar while on the go.
It is a small lightweight app with size around 700Kb that works on Windows 2000, Windows 2003 Server, Windows XP, Windows Vista, Windows 2008 Server, and Windows 7.
Download Azotix Active Organizer