Manage Tasks And Evaluate Work Efficiency With Task Counter
Task Counter is a freshly baked task management software which lets you view in-depth statistics of time which you spend on completing define project tasks. Compounded with all the features related with measuring work-time efficiency, it offers a simple mechanism to check the effectiveness with which you worked for a defined amount of time. For instance, if you want to check how productive have you been since morning, bring it up at the end of the day to evaluate how much time you spent on project related tasks. If you are a freelancer, it would assist you in counting total amount of effort as well as time involved in given set of tasks in order to properly bill the client.
Being a totally distraction-free tool, it works from Windows system tray. The blue icon in system tray represents that it is in passive mode. Before starting the counter, specify tasks that you will be performing. Once listed, select the task and click the clock button to start the counter.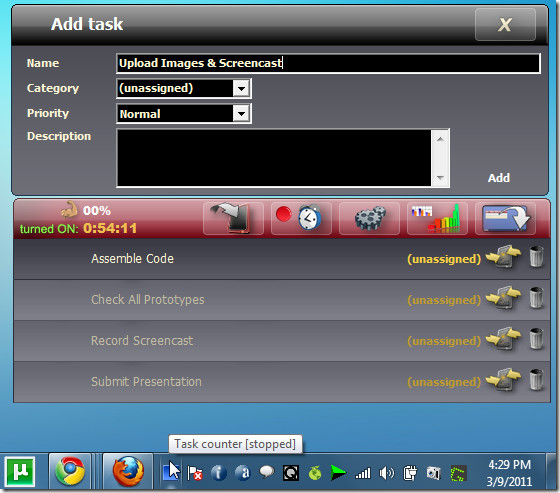 Alongside Counter, click Settings to sort the listed tasks by priorities, category or by Name. Here you can also register a hotkey to start/stop counter and automatically pause the counter after defined time of inactivity. After you've started the counter, the blue icon in system tray turns red, indicating that time and work efficiency are being tracked.
When you want to get a preview of overall productivity, click bar chart button to analyze the statistics in detail. In Stats window. At the left side, you have options – task list and times & ratios, to visually analyze details including efficiency and time spent on specific task, and time distribution for task days respectively.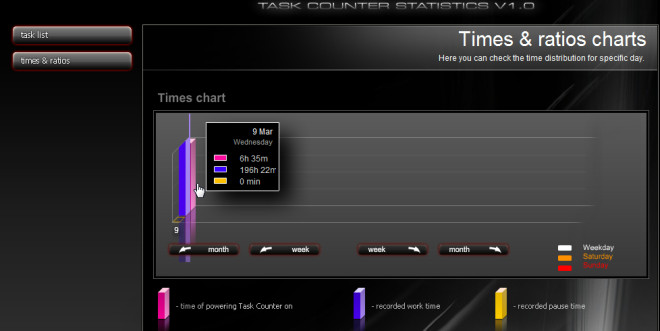 Overall, Task Counter provides better analysis of time spent on tasks as compared to other task managers. On the product page, you will find detailed explanation of provided features. It works on Windows XP, Windows Vista, and Windows 7.