Manage Windows Services From Multiple Computers With Services Monitor
It is often necessary to start and stop numerous services on servers to perform a routine task or after installing a Windows feature. For example, to give Windows Server 2008 the Aero effect, Desktop Enhancements must be installed, after which the Themes service needs to be started.
Services Monitor is a tool for  managing Windows Services from multiple computers simultaneously.  You can add/remove services and start, stop or restart them with the time polling feature. In other words, you can choose a time frame to start, stop or restart selected Windows Services. Hence, Windows Services can be remotely controlled from several servers and workstations across a network, with centralized management.
To start adding services, click Add (+) button. In case you require removing any service, click Remove (–) button after selecting the respective service from the list. To add services for monitoring from other computers, enter a computer name and click Go to find it on the network. Once done, you can add services to Service Monitor from that service for easy management.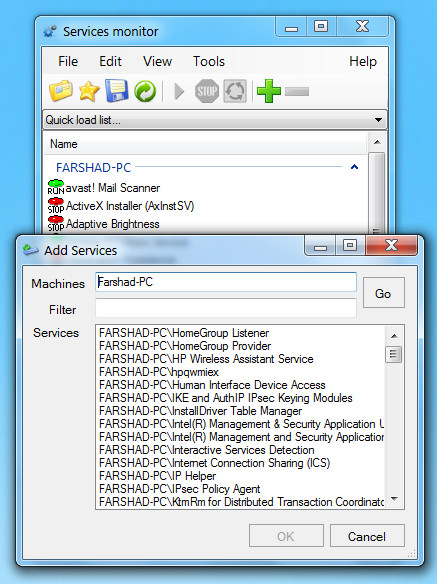 Context menu can be used to start, stop, remove, delete and restart a service(s). The same functions can be performed from the buttons on the toolbar on the main interface. To perform a batch operation, select Batch from the context menu and choose an operation to execute (e.g. to start all services).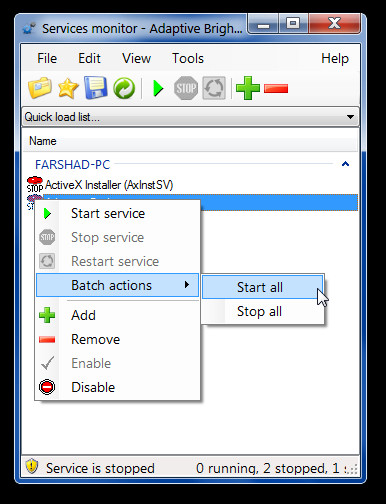 To enable polling for service management automation, choose Options from the Tools menu and select a polling frequency.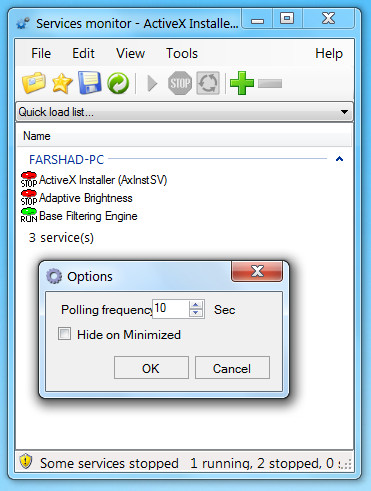 The Tools menu also provides access to Event Viewer and the MMC Console of Windows Services.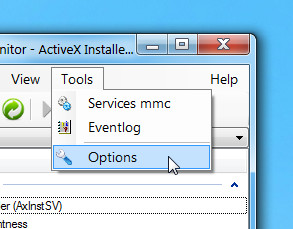 Services Monitor is a good resource for managing numerous workstation services across a Local Area Network (LAN). It works on Windows XP, Windows Vista and Windows 7.