Manage Your Inventory, Quotations and Business Contact List With Nevitium Inventory Manager
Making inventories, invoices, quotations, etc can be quite a laborious and time consuming task and saving all the records in multiple applications can lead to a lot of scattered data that becomes difficult to review. Having a useful application to record such specific details can be quite handy in generating a detailed analysis of a company's inventory and stock requirements. The Nevitium Invoice Manager is an inventory, quotation, invoice, contact list, customer and supplier credentials management tool that can help you organize such business data with convenience.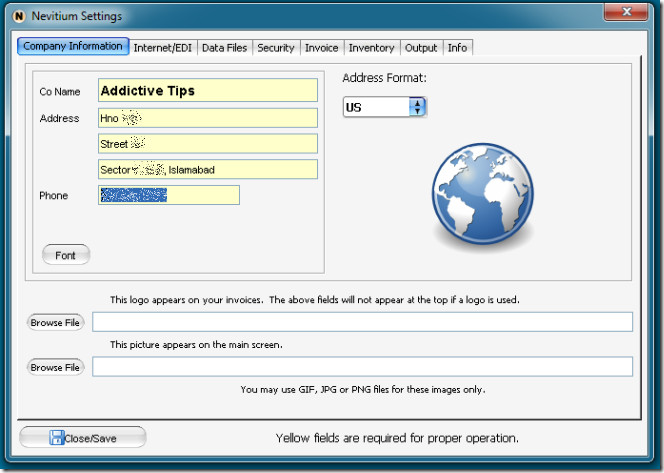 To start using this application you will have to add some basic details regarding your small business and configure some options to customize it according to your requirements. The first tab requires users to add company information along with, the choice of inserting a logo and managing the font type.
The Internet/EDI tab allows users to configure a mail server (if necessary), this can be particularly useful for companies that use an exchange server and would like to link the Invoice Manager with it. After entering your mail server credentials, the user can also send a test message to his/her email address.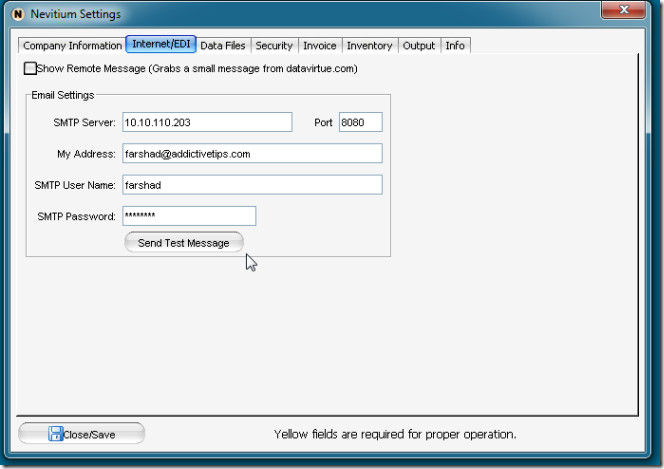 The Data and files tab shows the path where all the data will be saved and users can change the path and generate a backup folder for their saved information.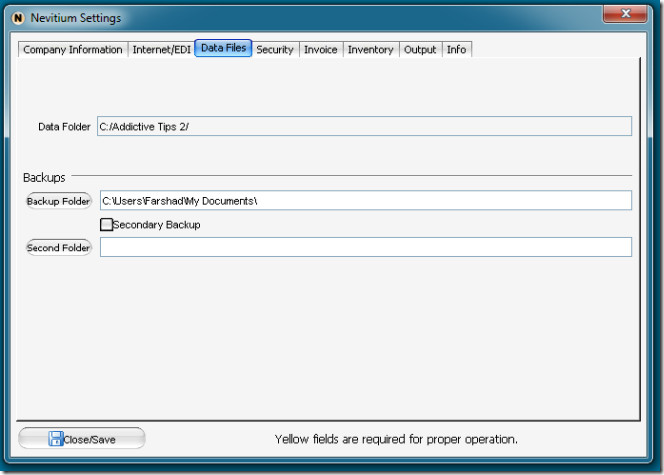 After clicking on the Manage Users Button in the security tab, you can add/remove users, customize security options and configure security rights.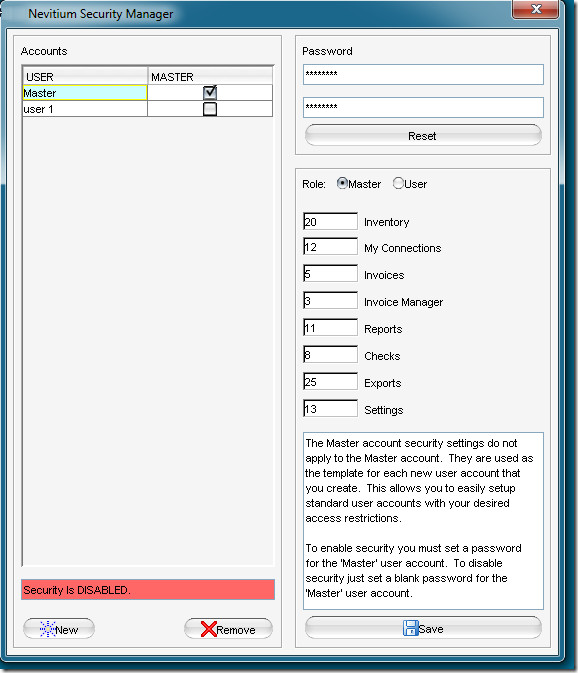 The invoice tab is meant to add basic invoice related details that can be used to customize the color of the invoice and statements, as well as to set tax rates and quotation names, currency symbol,etc. The rest of the three tabs including inventory, output and info provide  options such as customizing the location of invoice, quote and report folders and general information about the software publisher.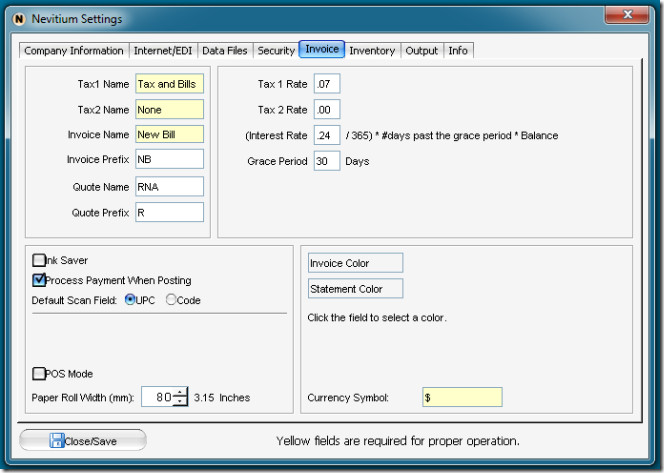 After configuring the basic options, you can start working with this application from the main interface. The File tab allows users to add another company (to manager separately within the application), backup data to a zip file, to import/export information to a system location or usb and to change company credentials from the settings option.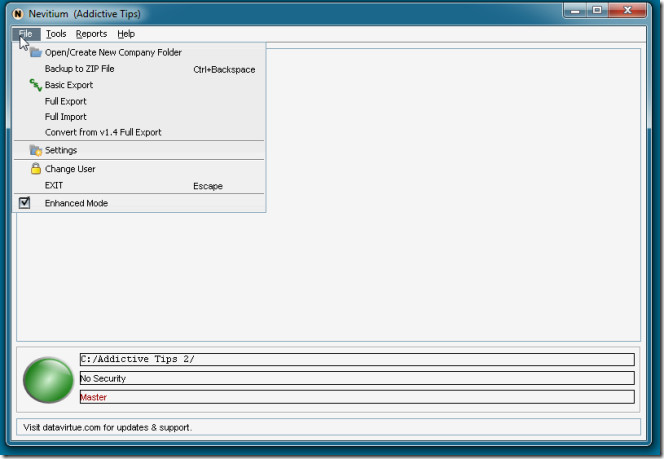 The Tools tab contains the major features that will help you make inventories, customer/supplier contact lists, invoices and quotations.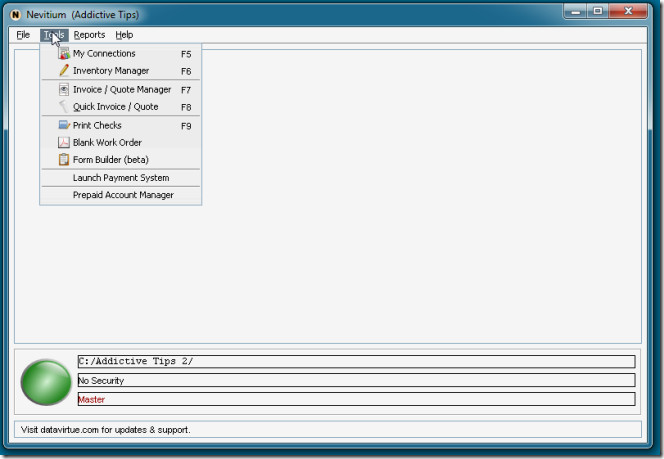 Since each option is quite elaborate to be precisely explained and shown in screenshots, therefore I have added some images that will help you acquire a good idea about how this application works. For example, the My Connections option leads you to an interface such as the one shown below, which allows making easy contact lists.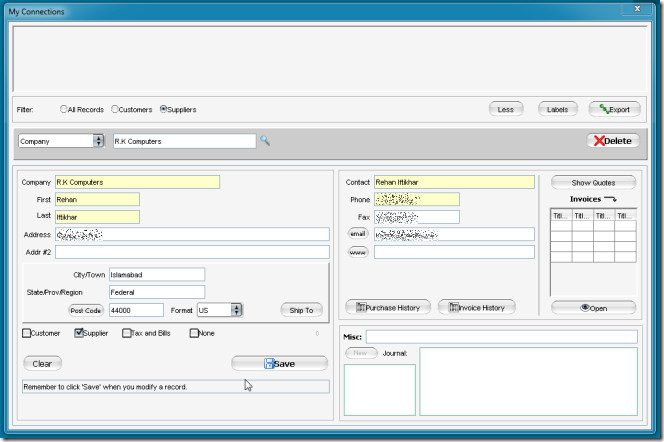 The Reports tab allows users to make invoices, sales reports,customer lists and the like.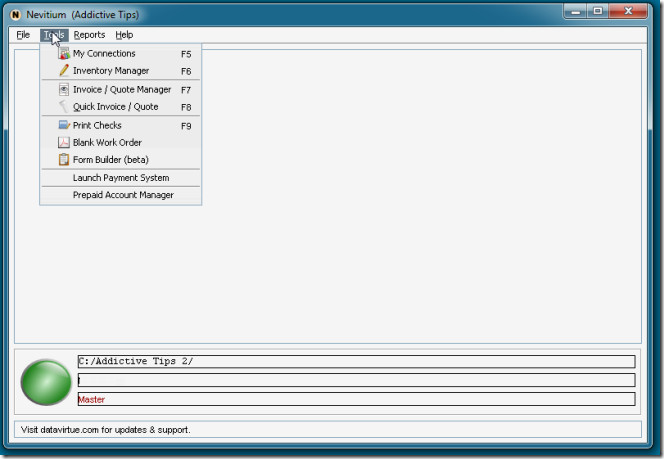 For instance, the inventory report can be acquired and printed from the reports tab.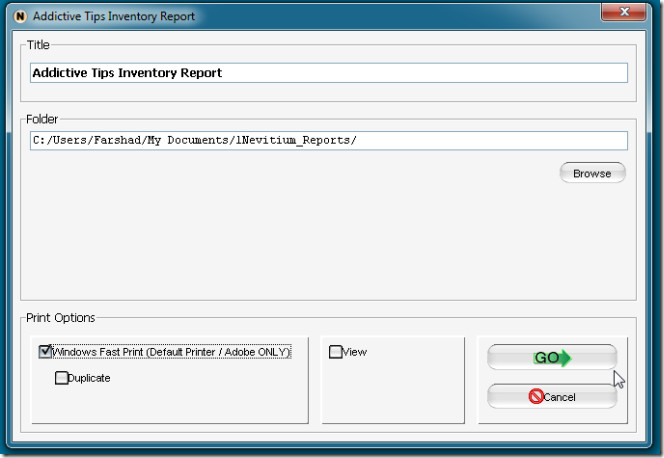 The Nevitium Inventory Manager is quite an elaborate application for managing inventory, invoice, quotations, business contact lists and related information. I believe its complexity is also its undoing as it can lead to some confusion regarding remembering which option to use for what task. However, it can help particularly entrepreneurs of small businesses or even self employed individuals to manage their business documentation with some convenience.
It works on all versions of Windows after 2000 and was tested on Windows 7-64 bit system.
Download Nevitium Invoice Manager