Manage Your Own Media Streaming Server With Subsonic
Subsonic is a web based media streaming tool which lets you play, share, search and access radio stations and offers whole lot of other features. It allows to stream music on-the-go, which works great when you want to play different genres in different locations. Once configured and set up, your media collection can be accessed from web or from any mobile phone. Yes, they have separate apps for both iPhone and Android.
It is developed to handle gigantic music collection, even though it is optimized for MP3 streaming yet supports almost every audio and video format. On first time usage, its system tray icon will prompt you to configure settings to get started. Just open Subsonic web application and you'll get a complete control panel with awesome collection of features to begin with. Select music folders, themes, default language, etc. Furthermore, it lets you authorize users with appropriate rights to create and share music library. With transcoder plugins you can easily convert and stream any audio formats on real-time. You can also select bitrates of music streams and let it work as podcast receiver.
The local music folders can be located from Music Folders option under Settings.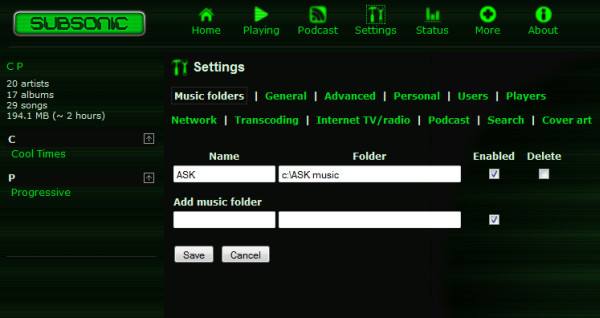 Once you've selected the local music folders, it will list all tracks on the interface.

If you are a music addict having fervor for many genres who wants to play, share or stream own playlists , try out this application. You'll love it.
It runs on all platforms including Windows, Mac, Linux, Unix etc. Testing was carried out on Windows 7 x86 system.
For more, check out mSpot.