Map All Documents Into A Calendar To Organize Them By Date
Nemo Documents is an application to search and view all your documents in chronological order. Besides being a straightforward document searching utility, it maps documents (PDF, DOCX, PPTX, PNG, XLSX JPG, TXT, etc) into a calendar to let user pick out any document from a specific date/month/year. All the current folders containing documents are automatically indexed whilst an option is provided to specify as many locations as needed.
The interface is well-designed and has a broad layout, allowing users to view all the documents that has been in usage since user-selected days or months. The main navigator holds multiple type of documents ranging from PDFs, Text documents, Audio files, Spreadsheets, Presentation files, and more.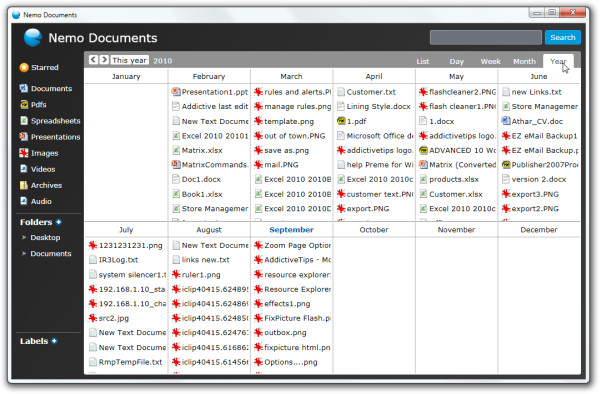 To add more indexed directories, click the add button, specify folder(s) and click Re-index to index all the contained files/documents.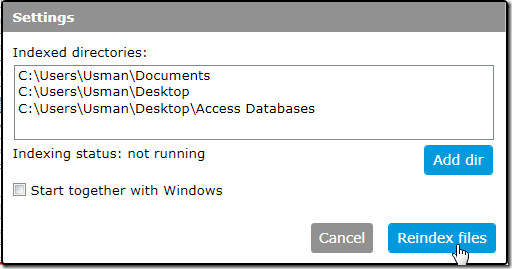 From Labels you can categorize the documents. The right-click menu offers labeling the document, alongside, options like Open, Copy, Start File, and Properties.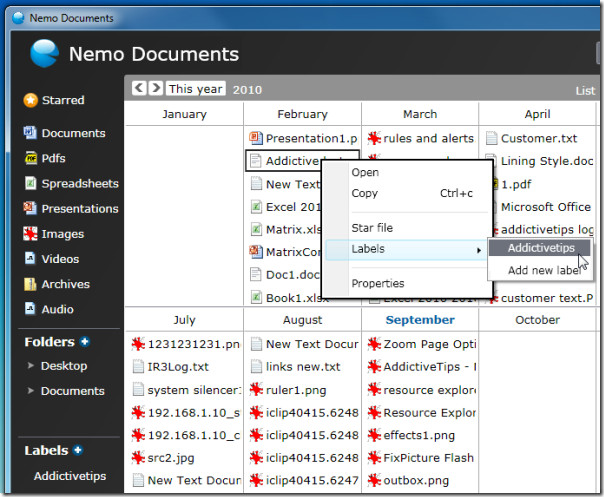 The application sits in system tray, allowing you to bring it up to view or search the documents. Mapping documents in a calendar is a great way to make yourself more productive and efficient. Nemo document is inspired by Outlook's way of managing events, tasks in a calendar view, it brings more or less same features to let user manage documents.
It runs on Windows XP, Windows Vista and Windows 7. Testing was done on Windows 7 x86 system.
For more, you can also check out 7sDocs and DocFetcher.