Maxxo: Yet Another Cloud Storage Service With Private & Secure File Sharing
Whenever I come across a cloud storage service now, the feelings inside me stay quite placid. One of the reasons maybe – as there are now numerous of them at disposal – there is nothing to get excited about, really. For all my cloud storage and file sharing needs, Dropbox or SkyDrive pretty much suffice the job. And of course, I never needed to upgrade beyond their free plans (even 5 gigs do for me). So, in order to leave that flabbergasting impression on users, companies are trying to approach with new ideas and thoughts, to win a share of your wallet. One serious effort has been made by Maxxo. It isn't your another Google Drive inspired cloud storage clone (the concept isn't something unique, though), but the service mainly focuses on making file sharing a lucid experience among your peers, friends, clienteles etc, meanwhile keeping everything private and secure. Maxxo is still in its initial stages and currently invitation only (more of a public Beta, I'd say), so it might take sometime before you get an account activation email, as their servers are currently flooded with requests. I received my approval within a couple of days and proceeded to give it a try.
For requesting an account, simply head over to Maxxo sign up page and provide your email and name, after which you will receive account activation email for creating user password and a download link for its desktop client. Once downloaded and installed, launch the application and enter your email and password, and click the Login button.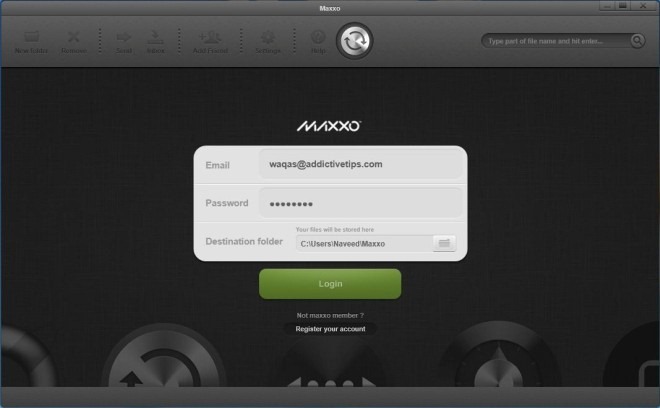 The interface of the Maxxo is something to commend. It looks clean and simple, and acts as your only portal for sharing file among your contacts. Along with file sharing, the company also provides you with cloud storage, the amount of which depends on your subscription plan. This subscription plan also limits how much data you can receive from your friends; for instance, there is 5 GB monthly limit on free accounts, but no such limit applies for sending the files. If you have already used other cloud services previously, then you might instantly get familiar with its usage. For example, you can create custom folders along with default ones, and drag and drop files over the application window to get them synced with the cloud.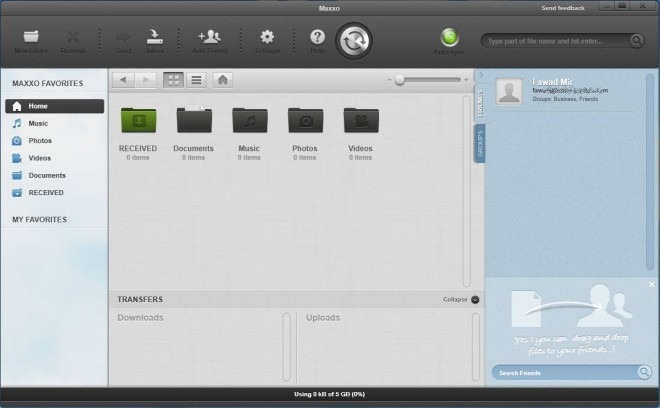 Clicking Add friends on the toolbar pops up a small window, from wherein you can add new friends by providing their email addresses. It also allows you to add your Facebook, Twitter or Gmail contacts. The ones who are already using Maxxo will be instantly added, while those who don't, will receive an invitation email.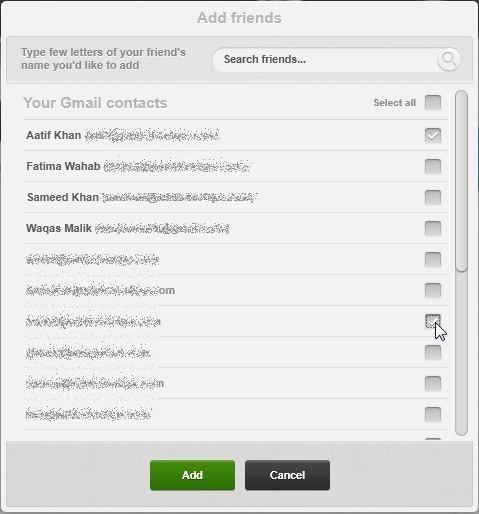 Added friends appear to the right of the window. Files that are already synced with the cloud can be easily transferred to your friends by dragging them over their names in the list. You can also share a file from local storage, but first, it will be uploaded to the cloud and then transferred to the selected contact. Sharing a single file to multiple contacts requires you to select the file and click Send on the toolbar, after which you can mark your contacts in batch. Sent files will be first uploaded to your friends' own cloud space, from whereon, they can choose to download the file to local drive. There is also a Pin and Unpin option in Maxxo. A file that is unpinned is automatically removed from your local drive but remains in the cloud storage. To do that, simply right click the file and click the Unpin option from contextual menu. The unpinned file can be re-downloaded using the Pin option.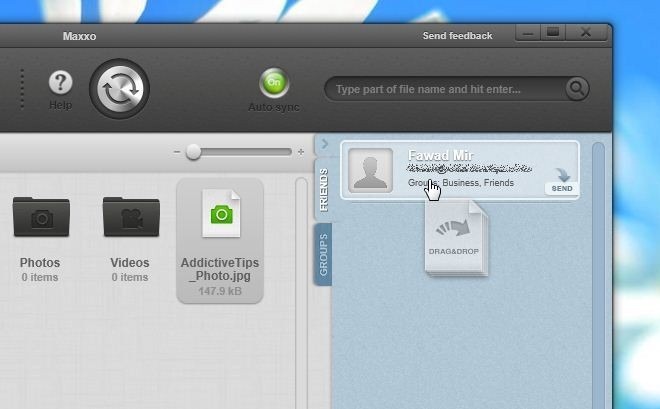 The developers have also thrown in a promotional video and a few How-to tutorials to get you acquainted with the service.
Verdict
Is Maxxo any good? Yes. Is it better than other cloud services? Well, that depends on your usage scheme. If sharing files is your only concern and you want it to keep private, then Maxxo might come in handy. But then again, it isn't another Dropbox-esque cloud service and shouldn't be treated like one. Moreover, Dropbox or SkyDrive (or Google Drive for that matter) are already well established brands, giving new entrants a hard time to catch up.
As of this writing, Maxxo provides 5 GB cloud space on free accounts, with 50 GB, 100 GB and 200 GB being the prerogative of the paid subscriptions – for $9.99, $19.99 and $29.99, respectively. You can check Maxxo's official page for complete details and pricing model. For now, Maxxo only works on Windows, with support for Mac OSX, iOS and Android in the pipeline.