MegaCloud For Android Allows On-The-Go Media Streaming From 5 GB Of Free Cloud Storage
Cloud storage services seem to be arriving left, right and center these days. In just the past few weeks, we've seen Google Drive transform into a reality; Maxthon released Skyfile, whereas earlier this morning, LG jumped in with LG Cloud for Android. Another cloud storage service called MegaCloud has been around for quite some time now, catering to the online data storing, syncing and sharing needs of Windows, Mac and iOS users. The service has just released its official Android client too, which means that you can now remotely access, manage and share your MegaCloud content anywhere on the go. MegaCloud has been throwing an initial offer of 5GB of free cloud storage space to anyone who registers for a new account, and once you install its official mobile client, you are rewarded with an additional 1GB of storage space. Using the mobile client of MegaCloud, you can upload almost any file type to the cloud, and stream photos, videos and music files natively (video and music streaming does not seem to be working currently), without having to download the content beforehand.
In addition, you can also use the MegaCloud Android app to share folders and links with your friends and family. It also lets you edit files with compatible apps on the fly, and allows you to bookmark favorite files, so that you can access them whilst cruising offline. That's not all; the app can also be protected with a passcode, so you can protect your precious cloud content from unauthorized access.
To make the uploading task easier, the app lets you batch-select required files via its native file explorer. All the selected files can then be uploaded to a MegaCloud folder of choice. To share, rename, remove, download (file only) or bookmark a file/folder, just long press it, or tap the tiny arrow icon displayed along side its title.
The native media streaming option of the app seems to be working only with the photos and not with music or video files, as for the latter, MegaCloud prompts you to select an external application. However, for your online photos, the app provides you with a full-screen photo explorer interface, using which you can navigate to various photos within your online photo library, and download/share the desired images from the same screen.
The desktop client of MegaCloud is available for Windows and Mac, and can be downloaded from the official MegaCloud website. Once the desktop client is installed and configured, you can begin syncing content across your computer, mobile device(s) and the MegaCloud online storage. In addition, the desktop client also lets you review and retrieve deleted files. The application also keeps a tab on the previous states of your cloud content, and lets you restore to an earlier version of a modified file, in case the need arises.
Users looking to avail larger storage space on MegaCloud have the choice of upgrading to various subscription packages, including a 30GB offer for $4.99/month, a 60GB offer for $9.99/month and a 150GB offer for $19.99/month.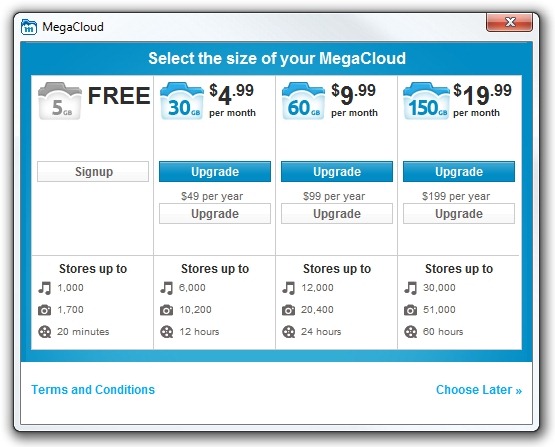 Download MegaCloud For Android
Download MegaCloud For iPhone, iPad & iPod touch