How To Message From Your Desktop To Your Android Phone
Phones are useful but they're also a distraction which is why we're always looking to minimize how much they can distract us. Messages are one reason we often pick up our phones, and after that we end up checking other apps. To minimize this particular distraction, Google has a web version of its Messages app. You can use it from your web browser and Message from your desktop to your Android phone.
The web app basically routes the messages to the Messages app on your phone, and the message is sent. All messages that are sent to you are likewise synced to the desktop. You do need a SIM card in your phone to send the message and both your phone and desktop need an active internet connection to sync messages.
Messages For Web
The Messages app for web is a web app that you have to connect to your Android phone in order for it to work. It connects by scanning a QR code. The app will give you a code when you visit it.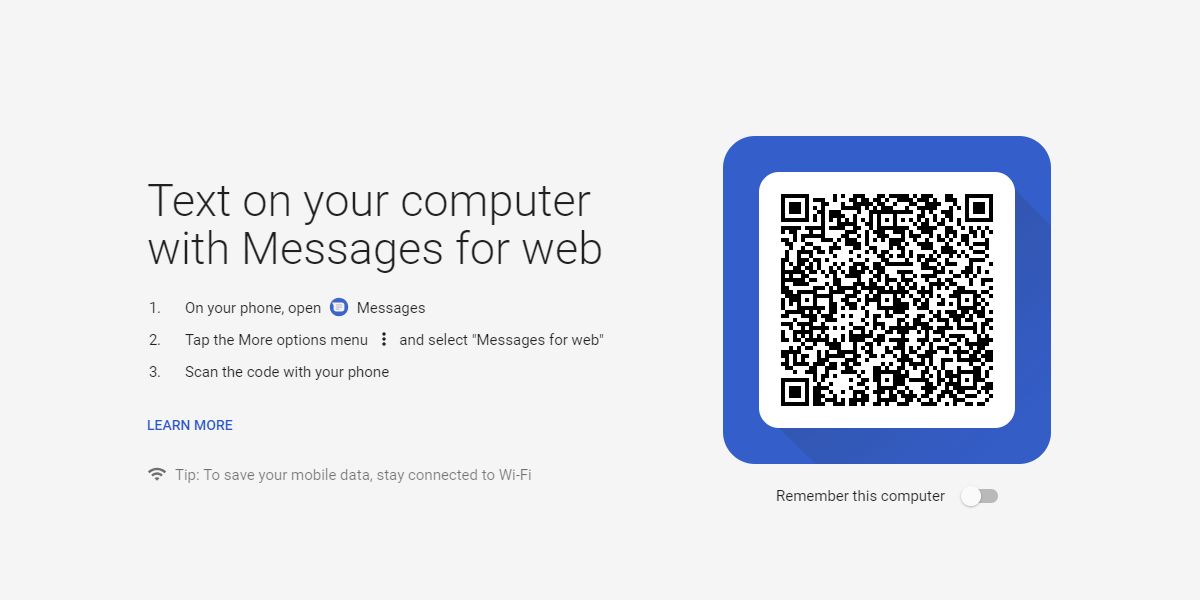 Messages On Android
Make sure you've got the latest version of the Messages app. Open the app and tap the more options button. The menu ought to have a 'Messages for web' option. Tap it, and it will take you to the scan code screen. Tap the Scan QR Code button, and scan the code the web app gave you.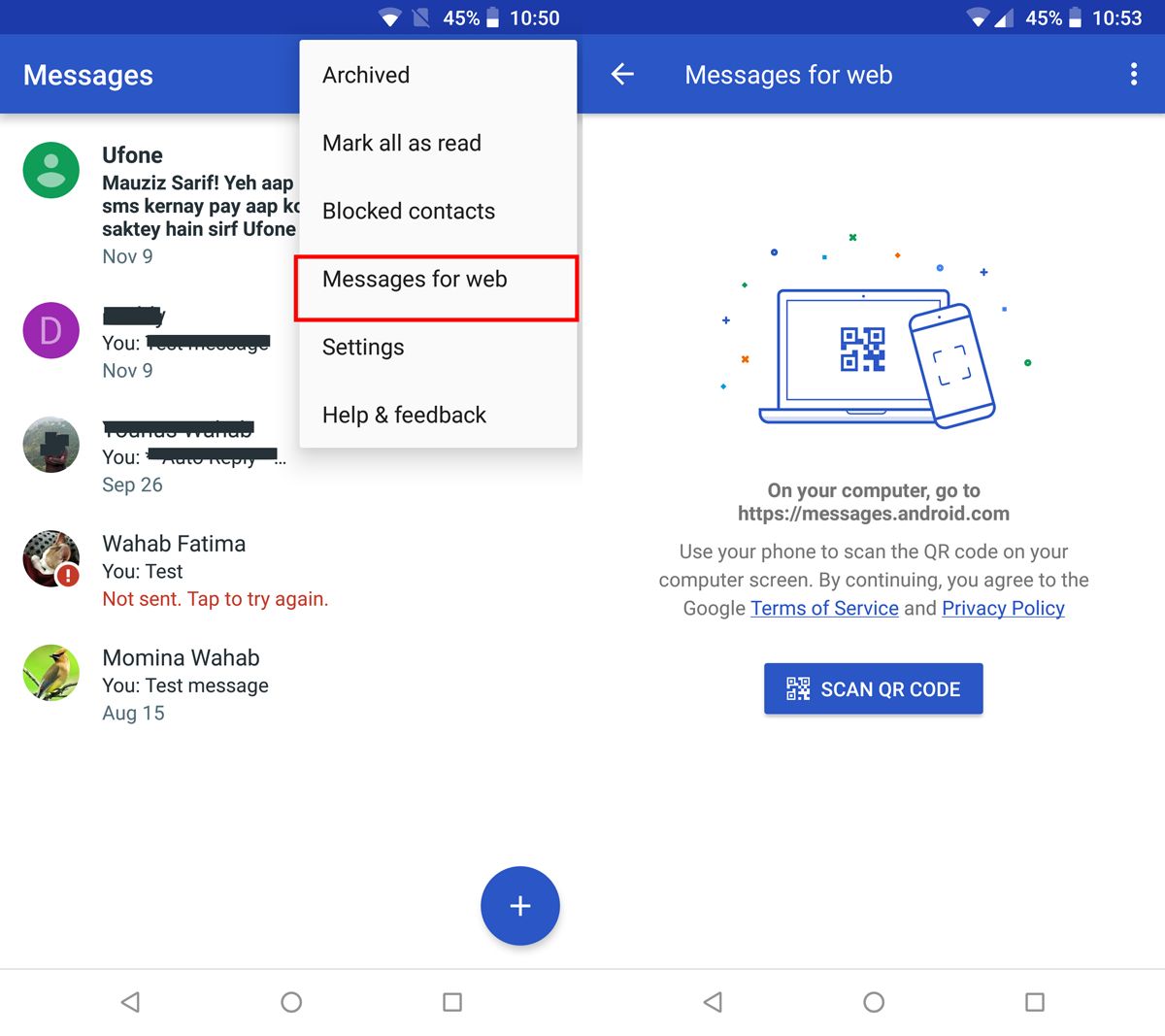 Sending & Receiving Messages
Once the app is connected, you can start messaging from your desktop. The message takes a little time to send. It's sent from your desktop to your phone, and then from your phone to your intended recipient. Likewise, your messages might be a little late to arrive on your desktop from your phone.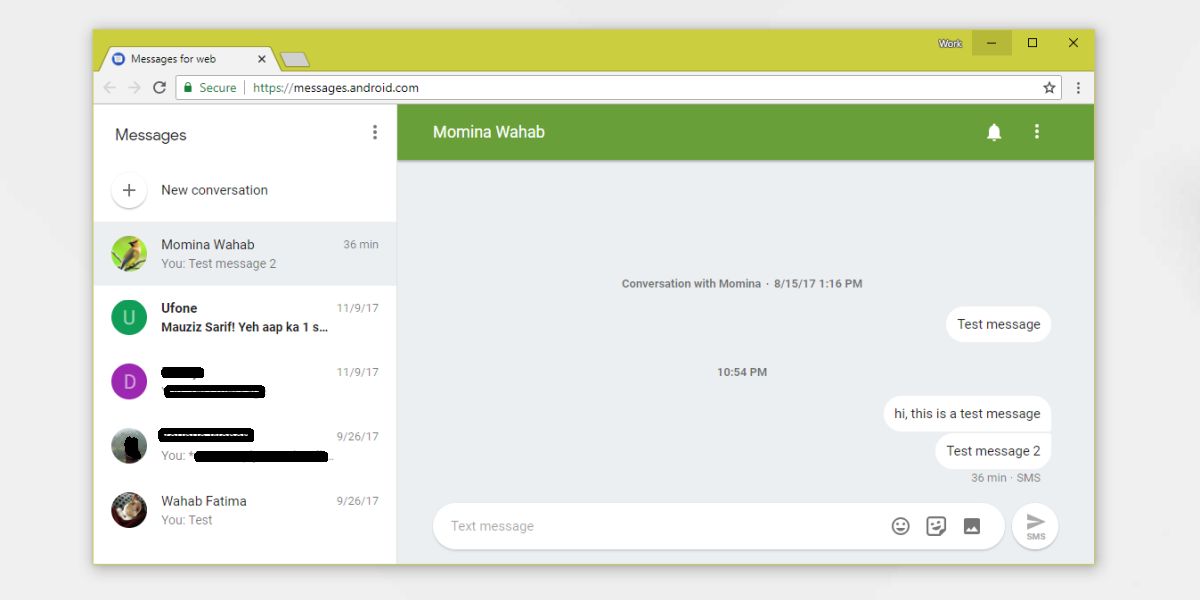 If you're using a modern browser like Chrome or Firefox, you can enable desktop notifications and minimize the window you have Messages for Web open in. When you have a new message, the web app will send you a desktop notification.
Like its Android counterpart, the web app lets you send pictures, stickers, and emoji. The messages are time stamped, and your contacts' name sync with the synced message threads so you're not just looking at numbers when you send and receive messages. You can start a conversation with any of your contacts even if you don't have an active message thread with them.
The web app requires an active connection to your phone for it to work.