Popular Windows Phone YouTube App Metrotube Comes To Windows 8 & RT
YouTube can be considered one of the biggest and most lucrative acquisitions by the company. The video streaming service has become so popular that most internet users hardly spend a day without browsing a few videos or YouTube channels, whether on mobile or desktop. Google however, has been quite dismissive when it comes to releasing a YouTube app on Windows 8, leaving video streaming fanatics on this very platform rely on third-party apps or the web version. We have covered a few Windows Store apps that provide a handsome YouTube experience without leaving the metro environment such as PrimeTube, YouVue and Your Tube 8. Metrotube – a renowned Windows Phone YouTube app – has now joined the party, and with its release, the YouTube experience on Windows 8 and Windows RT is finally setting its foot in the right direction.
From its gorgeous design and intuitive UI to its ability to let you stream videos at full 1080p HD, there's a lot to like about Metrotube. The landing screen comprises of a simple black background overlaid with Popular video titles, along with navigation controls for different sections and categories on the left and right. On the right, you will see that app provides quick access to YouTube categories. The MyTube area to the left, on the other hand, lets you navigate to your uploads, favorites, recently played and watch later lists. You can also Refresh the view from the app bar at the bottom.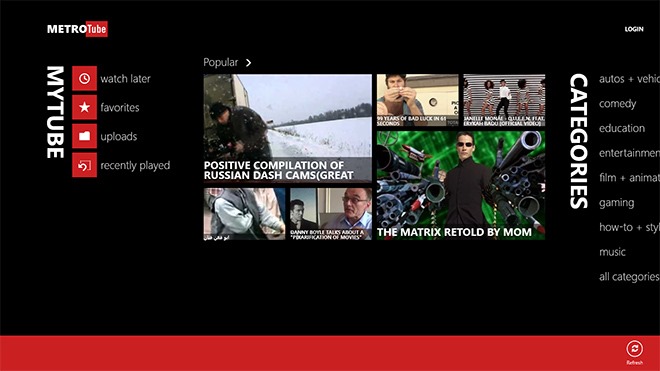 Clicking or tapping a category to the left will bring up the relevant video tiles, from where you can tap your desired video to start streaming it. The app looks pretty gorgeous on Windows RT tablets and takes full advantage of the accelerometer to quickly switch between landscape and portrait view modes. The Options bar of Metrotube (accessible from Charms Bar > Settings) allows you to specify your preferred streaming quality of videos, and your YouTube region.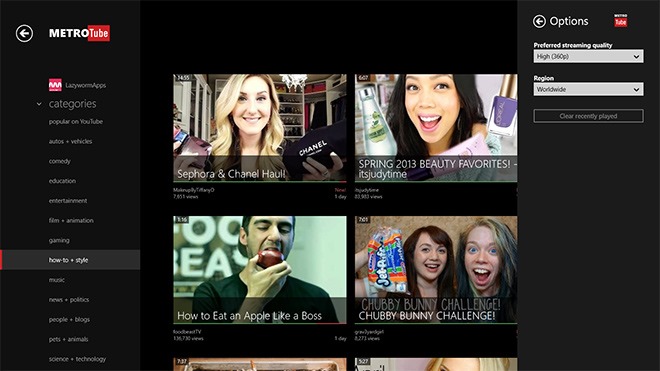 So how about video playback itself, you might ask… Well, it looks and performs equally good, to say the least. Videos can be watched both in windowed and full screen modes, and you can instantly change video quality between HQ, HD and Full HD on the fly. That said, you can also control volume, and add the video to your favorites or watch later lists, all from the app bar. The playback screen also displays the number of likes & dislikes, user comments and related videos for the current video.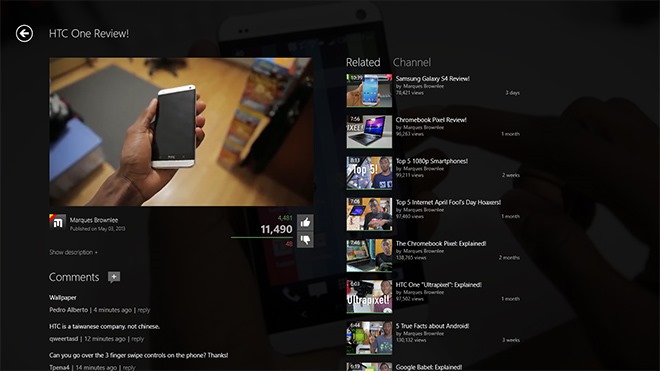 Summing up Metrotube in one word is fairly easy – it's just awesome! So if you've been waiting for the best YouTube app to come on Windows 8/RT, looks like the wait is over now. The app is available for free at Windows Store.
Download Metrotube For Windows 8 & RT