Microsoft Excel 2010 Columns
Microsoft Excel is the most prominent and widely used spreadsheet program. One of the basic elements of the spreadsheet application is the column, which contains our data, and a spreadsheet consists of columns. We identify different pieces of data in the spreadsheet as columns.
Juts like in the following screenshot, A, B, C, etc are all columns.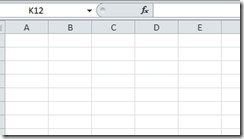 Lets see how we can perform different operations with columns in Microsoft Excel 2010.
How To Add A Single Column To your Excel Sheet ?
Right-click the column, adjacent to  which you wish to add another column, and choose Insert, a new column will be inserted to the left of the selected column.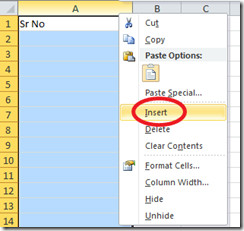 How To Add Multiple Columns to a Spreadsheet
In the column header, select the number of columns that you wish to add to your excel sheet, if you want to add 2 columns then select two columns, right click and choose Insert, you will find 2 new columns added to your spreadsheet.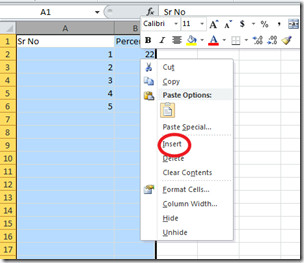 How To Delete Column(s) From a Spreadsheet
In many cases, you don't need any particular column, here are the steps to remove any column(s) from your Excel worksheet. Select the columns, right click and choose Delete.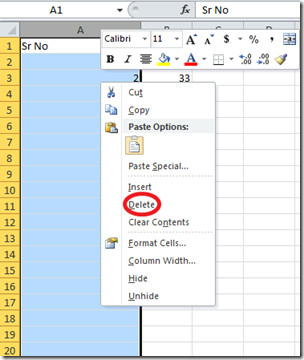 Hide/Unhide Column(s) In a Spreadsheet
If you wish to hide/unhide any particular column(s) in your excel sheet, select the column(s), right-click and choose the Hide or Unhide option.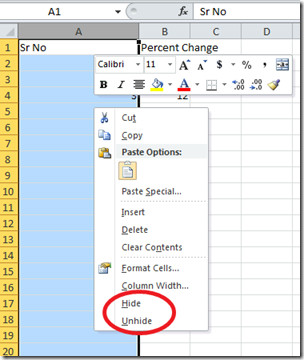 How To Freeze the First Column
Excel lets you freeze the first column of the spreadsheet so that you can keep the first column visible while scrolling through the rest of the worksheet. In order to freeze the first column in Excel 2010, click the View menu, then click the Freeze Pane option and choose Freeze First Column.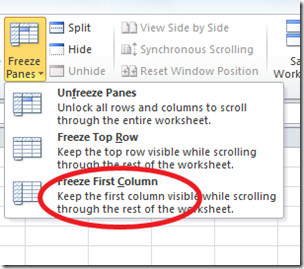 Adjusting the Column Width
The simplest way to adjust the width of the column is to simply drag it from the corners. Additionally it can also be done by going to the Home menu and Format > Column Width option.