Create & Share Short 60-Second Videos On Windows With Movie Moments
The ability to quickly edit casually recorded videos in a way that requires the least amount of skills can be a lot of fun, but things have gotten even more interesting lately with the popularity of Vine and Instagram that let users record short video loops and share them on social networks. Windows RT and Windows 8/8.1 are built by Microsoft with portability in mind, and both these operating systems can record videos on camera-enabled tablets and computers. On the flip side, Microsoft's OS is yet to officially receive Vine or Instagram clients. Though, the Redmond company has provided its own take on creating and sharing short videos for Windows 8.1 and later. Movie Moments is a Windows Store app by Microsoft that lets you easily record, edit and share videos of up to 60 seconds in length, in the most simple fashion.
Movie Moments sports a gorgeous UI that's also fairly easy to navigate. On the home screen, you can start capturing new footage by hitting the 'Take a video' button, or 'Pick a video' to import an existing video file stored on your PC or tablet.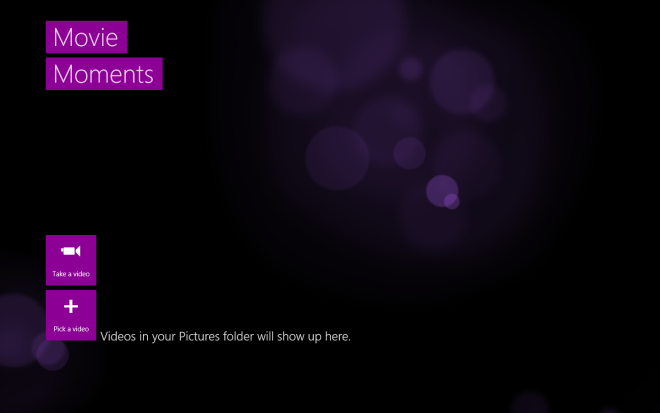 Once a video has been captured or imported, Movie Moments let you play it using the integrated player, which doubles as its video editing workspace. As mentioned earlier, a video has to be 60 seconds or shorter in length. If a video is longer than sixty seconds, you can easily trim the unwanted parts via the small handles within the seekbar. In addition, you can add colorful captions to the video as well. To do that, move the slider where you want to add a caption, and then click the small caption button on the seekbar.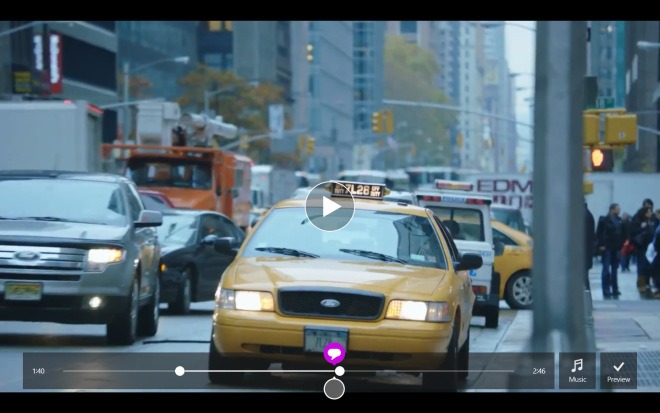 This will open up another screen where you can enter the required text that you want to put on your video, as well as choose the text style among the likes of modern, light, chroma, halftone, meme, formal and more. You can also activate Emphasize Text and Freeze Frame features for the caption if you wish. Once you're happy with your current preferences, hit Done to save the changes.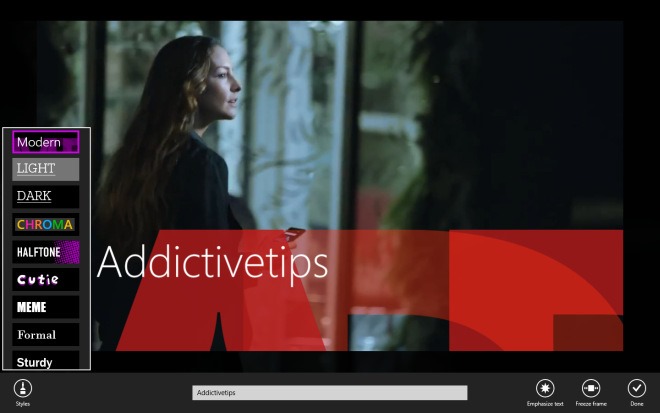 This will bring you back to the main screen. Movie Moments also lets you add a custom audio track to the video, as well as mute the default one. To import a custom sound, click Music, followed by selecting the source file. You may play the final version of the video before saving the output by clicking Preview, which in turn renders the output video and shows you how the final result will be.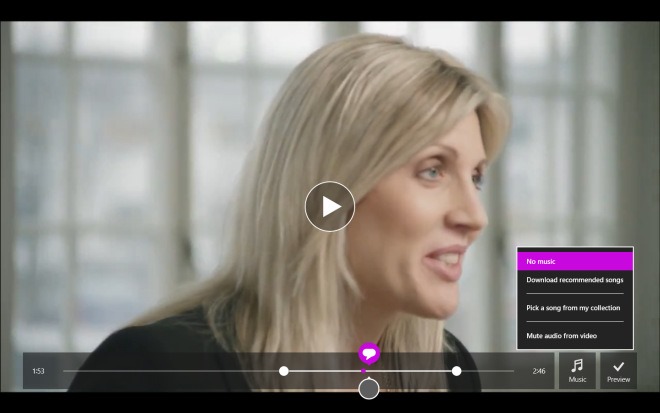 Once the video is processed, you can preview it, edit it again it by going back to the edit screen, share it video via the built-in Share feature, or save it as to your computer.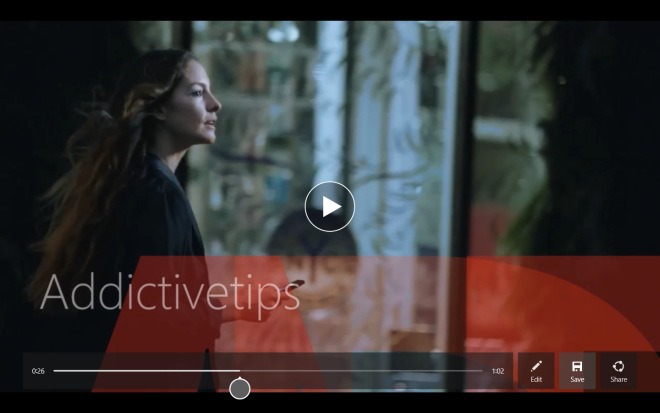 Movie Moments is available at Windows Store for free and can be downloaded via the link provided below.
Install Movie Moments from Windows Store