Microsoft Office Project 2010 Viewer
There are Word viewers, Excel viewers, PowerPoint viewers, PDF viewers, and so many other methods to view different formats for free. One app however is left in the dark and that is no other then Microsoft Office Project. There are limited number of desktop tools to view Microsoft Project(.mpp) files but they are all paid apps.
We first reviewed Projec.to, an online service which can be used to view and share Microsoft Project files publicly. It had a huge disadvantage since anyone could view confidential projects. Having a free cross-platform Microsoft Project viewer is a must for small companies who cannot afford to install Office on every computer, also most co-workers these days use different operating systems.
MOOS Project Viewer is the only cross-platform desktop Microsoft Project Viewer(that we know of) that is entirely free with no strings attached. Apart from the default Microsoft Project file .mpp, it also supports .mpt and .xml formats.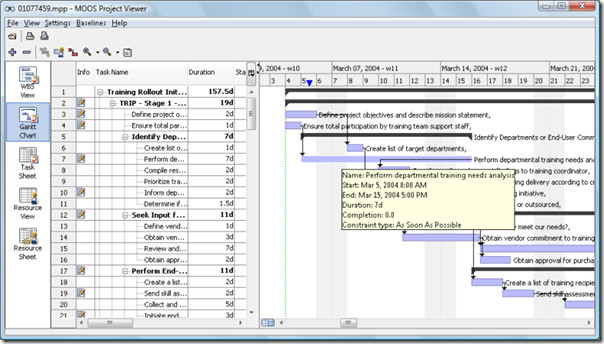 Screenshot taken from developer's page
It is build for Microsoft Project 2000, 2003, and 2007, but works seamlessly with Project 2010 as well since the format has stayed the same.
There are multiple view types for better visualization, such as, Gantt Chart, Task Sheet, Resource Sheet, Resource Usage, Tracking Gantt, and Calendars. You can print any view and share it with your staff, friends, and co-workers.
According to the developer, it supports Wide Gantt Chart timescale range(from minutes to years), shows critical path, deadlines, and baselines. You can also Show/hide, re-arrange and resize columns per view.
It works on every Java enabled platform, Windows 2000, Windows 2003 Server, Windows XP, Windows Vista, Windows 2008 Server, Windows 7, Mac OS X, and Linux are all supported. There are separate installers given for Windows, Mac, and Linux which can be grabbed from the homepage.
Extra Note: Microsoft Project is always said to be part of Office suite but was never included in Office until Office 2010 beta 1. We can expect Microsoft Project to ship as part of Office 2010 suite in June.