Microsoft Tag Reader – Render And Save Microsoft Tags In Image Formats
High Capacity Color Barcode (HCCB) is a Microsoft developed procedure for encoding data in a 2D "barcode" using clusters of colored triangles instead of the square pixels associated with 2D barcodes. Microsoft Tag is an implementation of HCCB using 4 colors in a 5 x 10 grid. This can be used as for example, a Tag on a company insignia which might be printed large enough to be read by a reader. Microsoft Tag Reader is an open source application, which is designed to render Microsoft tags while allowing you to convert tags in various image formats, including PNG, JPG, BMP, JPEG SR and SVG.Just drag and drop a Microsoft tag file to the main interface of Microsoft Tag Reader and select an image format and width to save it. Microsoft Tag Reader will recognize the tag and save it in your selected format after rendering it. What makes Microsoft Tag Reader quite handy is the fact that unlike Microsoft TAG Manager, it renders tags in image formats instead of RAW and PDF format (which is currently the only format available for Microsoft TAG Manager). This can be useful for reading application codes, company insignias, etc.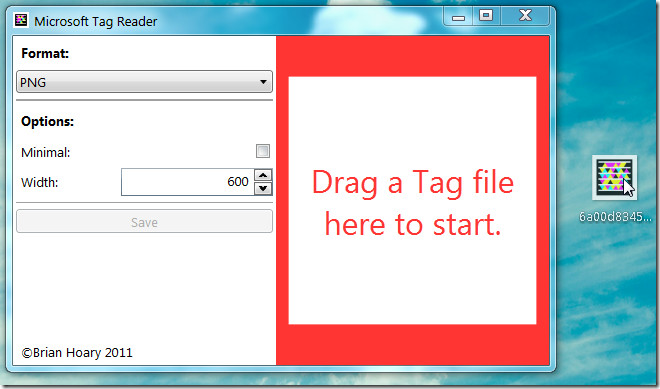 Microsoft Tag reader works on Windows XP, Windows Vista and Windows 7.