Microsoft Word To SharePoint Converter
Want to convert a Microsoft Word document to SharePoint(MOSS)? Well now it is quite easy to convert Word documents into SharePoint content. Word To Share(Word To Moss) is a free tool developed solely for this purpose. Since it is an additional feature for SharePoint, you will also find a document(downloaded separately) with complete guide to using it.
Since I didn't have SharePoint to test it out personally, the documentation gives the complete guide which I am sure is enough. However after the setup is complete, you will have to activate it from the Site Features within the Site Settings.

Once the WordToSharePoint feature is shown, select the required items and hit Transfer Selections button.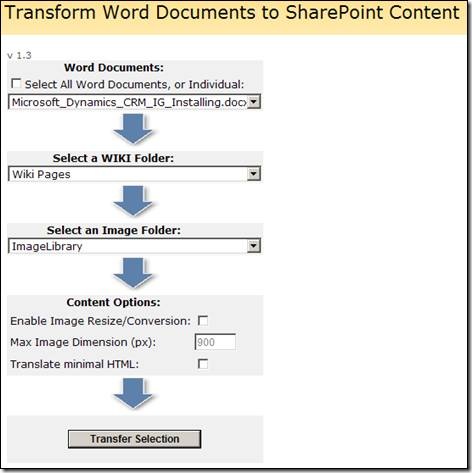 The screenshots above are taken from the program's documentation.
Make sure that you have the following before conversion:
A Document library containing Word 2007 documents for transformation
An Image Library to hold the images retrieved on import and
A Web Page Library such as a WIKI.
It works with MS Word 2007 and SharePoint 2007, we are not sure if it works fine with Word 2010 and SharePoint 2010 as well. Enjoy!