Min.us Share – Add Min.us File Upload Option To Windows 'Send To' Menu
Min.us is an awesome file sharing web service which also provides a desktop application along with Firefox and Google chrome extensions to make sharing files, images, documents, music, and web links as seamless as it can be. We have previously reviewed extensions for both Chrome and Firefox and Min.us desktop application to share files from desktop via drag & drop, but there is one feature which would have made Min.us desktop app more useful, and that is, Windows Shell context menu integration for uploading files to Min.us from file right-click menu. Min.us Share is a tiny yet useful application that fills this void.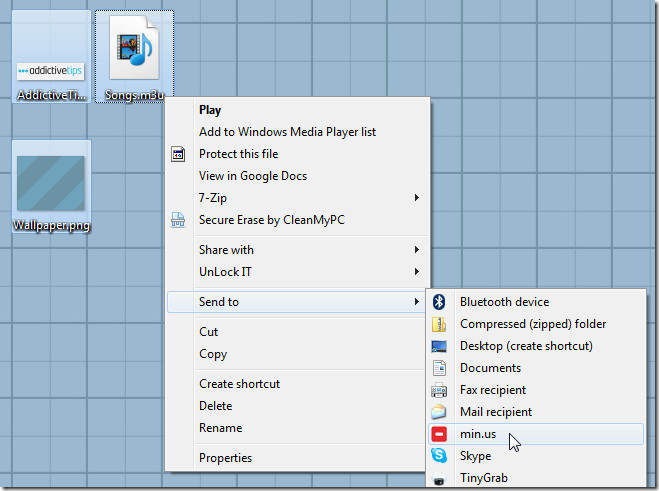 It integrates into Windows right-click context 'Send To' menu to let users quickly upload and share files. The application greatly complements Min.us official desktop app in terms of giving a more simpler way to share files and folders from within the Windows Explorer.  Simply right-click the file or folder which you wish to upload and share with others, and from Send to menu, select Min.us. It will list down all the selected files or folder's content, waiting for you to start the uploading process.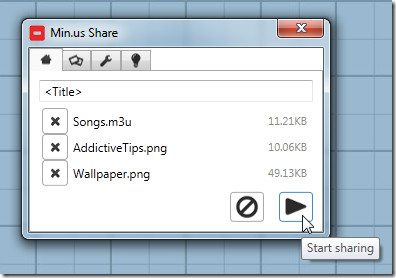 Before you start the process, you can change the file naming convention to streamline the uploads in any way. Next to Home tab, it lets you view your online gallery, sign in to the service, and enable/disable file sharing options, such as, display file size and hide deleted galleries. When files are uploaded, it will show both edit and share links. Furthermore, alongside the links, you have option to directly share the file links on Twitter, Facebook, Identi.ca and send the links to recipients through email.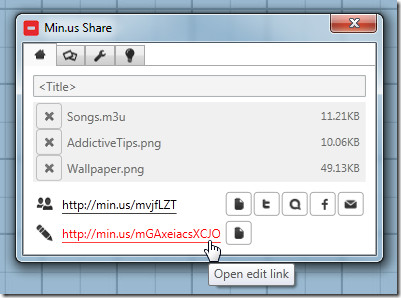 Min.us Share works on Windows XP, Windows Vista, and Windows 7.