MindStick SurveyManager: Create & Deploy ASP.NET Web Surveys With Ease
Online surveys are getting popular day by day mostly due to their usefulness for a wide range of users. Be it recruitment campaigns, feedback promotions or branding awareness; web surveys are now seen as user-friendly avenues for collecting data responses and analyzing them through online tools such as GoogleDocs or SurveyMonkey. For advanced web survey adaptability on ASP.NET, web developers tend to indulge in writing lengthy code to achieve their interactive aims. This usurps both time and efficiency for web development and maintenance. MindStick SurveyManager is an application for Windows that lets you create, deploy and manage ASP.NET web surveys. Moreover, it offers custom validations as well as result analysis in both grid and graphical formats. Details to follow after the break.
MindStick SurveyManager reaches your desktop with a quick and clean installation experience. The welcome screen, displays all the relevant buttons to initiate and manage a survey. To get started, click New and insert the relevant title and description of the survey. You can easily create pages with specific questions, inquiring all the required  information. Traditionally, an one-screen survey is cluttered and based only on separator headings for giving an organized look, but, by advanced web surveys, we imply a step by step online survey experience with each screen termed as a page. This has the obvious advantage of better organization and enhanced control features for the administrator. In addition, this survey utility provides a tree-like explorer in right sidebar to easily manage the sequence and content of the survey with a few clicks.
Providing you with the advantage of better visualizing lengthy survey structures, the sidebar also allows modifying the sequence of both questions and pages. Fonts, styles and spacing can be modified through the Settings button. MindStick SurveyManager also offers you the following question types, accessible through the AddQuestion button:
Multiple Choice (Select Any or Many)
Drop down Menu
Matrix (Select Any or Multiple)
Single or Multiple Line Text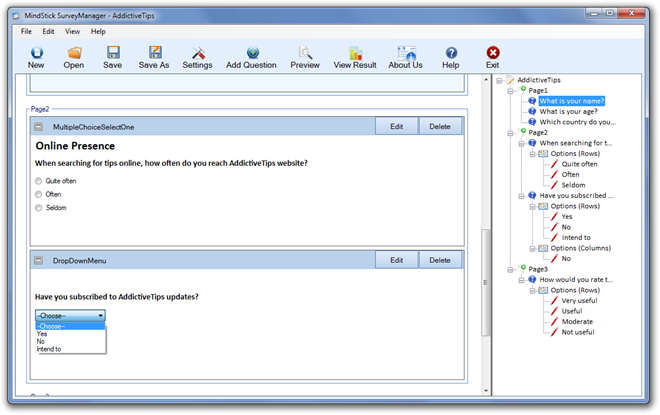 Another distinguishing feature of this application is the support for custom validation. This sets the pre-requisite for the survey-taker in order to ensure relevance to the subject. Validation type can be based on a required field, email address, Internet URL, U.S. location details or some custom, specified expression.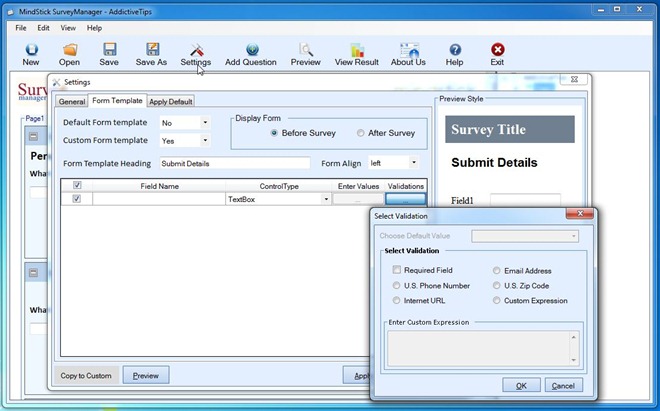 After defining and implementing the survey structure, the final output can be analyzed through the Preview button. If all is according to plan, the survey can be saved in XML format. This can then be hosted on any existing ASPX webpage.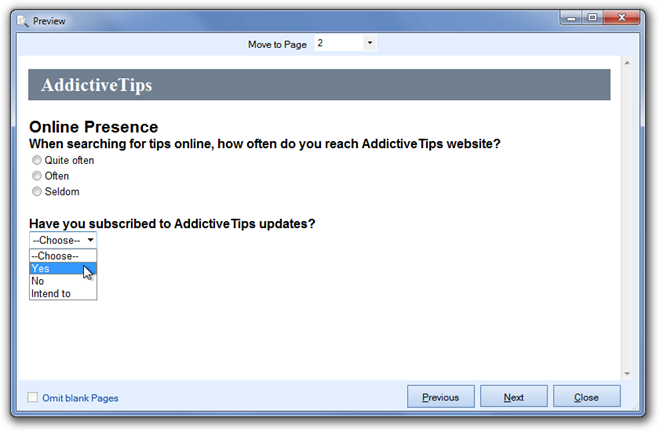 In a nutshell, MS SurveyManager provides all the features required for creating powerful survey structures and finishing them on professional webpages in an organized manner. The application works on Windows XP, Windows Vista and Windows 7. Testing was carried out on Windows 7, 64-bit edition.
Download MindStick SurveyManager