MINE Is A Modern UI Facebook App For Windows 8 With Feed Customization
Just a couple of days back, we recommended a great third-party Facebook app for Windows 8 and RT to our readers called Facebook Touch. The app looked simple yet very impressive due to its well-optimized touch interface and overall design. Despite that, though, it really lacked the pure Modern UI elements that one would expect from a Windows 8 application, most importantly the tile interface. This is where MINE For Facebook really shines. Not only does its interface look clean and intuitive, but it also boasts the tiled Modern UI that Windows 8 is known for, making it really nice to navigate through. The key feature of MINE is to let you personalize your Facebook feeds in order to keep them well-organized. Furthermore, you can access your timeline, like updates by others, post comments, update your status, add pictures, and check your notifications.
You can find the app in Windows Store under the Social category, or you can manually search for it via the Search Charm.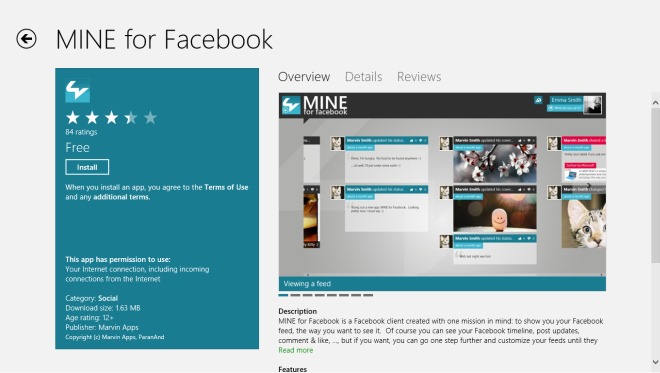 When launched, the app displays a login screen from where you can click or tap the log in tile to sign in to your Facebook account. The sign in process is fairly easy; just sure to grant the required app permission when asked.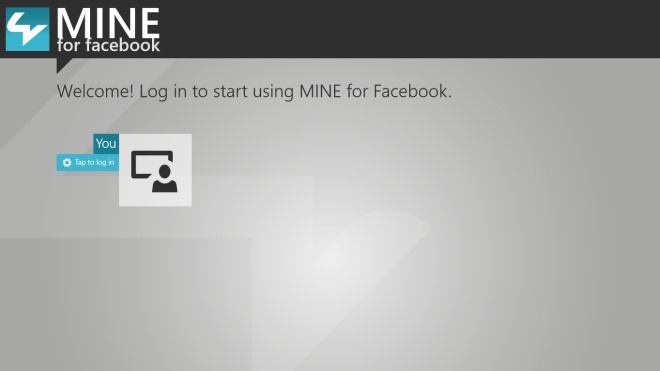 After signing in, you are presented with its main screen that displays your profile picture at top right, clicking which takes you to your Facebook timeline. The main screen also comprises of a trio of tiles named 'Your news feed', 'Status and picture feed', and 'Top friend link and info feed'. The Notifications can be accessed via clicking the relevent button at the bottom left area. To manage the feeds, you can click or tap 'Your personalized feeds'.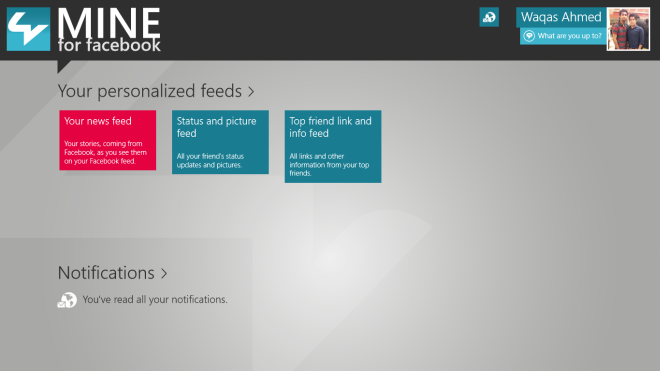 Feeds management is what makes MINE stand out from the competition. It allows you to specify which updates appear under each section. That said, you can also manage your top friends list. This feature saves a lot of time and hassle of going through the complete feed just to check what's being shared by your favorite folks.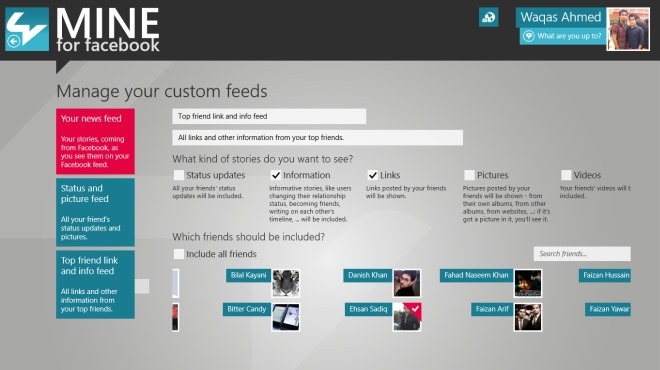 'Your news feed' is where all the latest updates appear from your friends, groups that you have subscribed to, and pages that you have liked. You can view additional content via swiping left or right, while swiping down presents a top menu consisting of Home, Story feed, Notifications, Friends and Manage feeds options, allowing you to instantly access different areas of the app.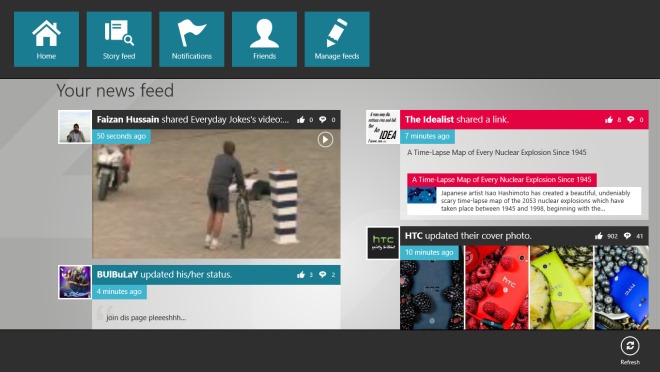 Likewise, the 'Status and picture feed' shows you all the images and status updates from your contacts and liked pages, filtering out everything else.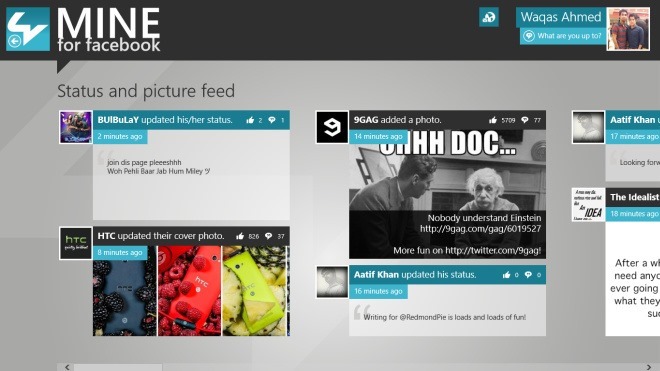 The Notifications section provides you with access to all your notifications in a well-laid-out manner that looks absolutely stunning from top to bottom.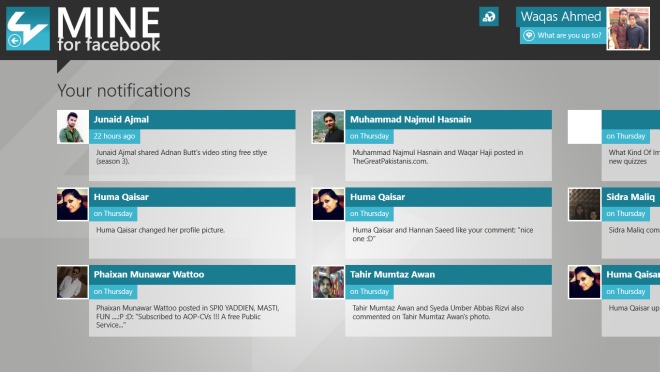 A nuisance we encountered in Facebook Touch is the app's inability to display Facebook Cover photos. MINE takes care of this issue as well, flawlessly rendering the cover photos on all profiles you view in the app, including your own. Moreover,  all the posts on the timeline are instantly loaded while scrolling left or right.
Overall, MINE For Facebook is a wonderful app that simply blows all the competition we have seen so far when it comes to third-party Facebook clients for Windows 8. It works on Windows 8 and Windows RT.