Minus Now Lets You Connect With Users & Play Any Audio/Video Format
Photo sharing has pretty much become a common internet phenomenon. From Flickr to Imgur, Twitpic to 9gag and Imageshack to Tinypic, you will find countless photos being shared by people around the world, in every passing minute. Perhaps that's the reason social network giant Facebook adapted it as a mainstay feature. However, sharing photos is cumbersome task and one has to go through the hassle of sign ups and other procedures to get the job done. Minus changed all, and we here at Addictive Tips, have been closely following the progress of Minus since it first came out just as a web service. We have seen it start as a web-service, which grows towards desktop and android app, and then integrate into Windows 'Send To' Menu, and finally get Browser extensions for Chrome and Firefox. That's some serious milestone it has successfully achieved. Should you unaware of the service, Minus is a file sharing web service that makes photo sharing just a matter of dragging images over your browser. Minus keeps on getting updates from time to time and it has received another one, including new features such as Explore to see what others are sharing, Galleries that allow you to play all video and audio file types and add tags & comments to images, and Dashboard has been revamped to become Home for all your uploading and following activities.
The  first thing to notice is that the interface of Minus has been changed,  making it easier to navigate around the website, manage your galleries and follow what others are sharing. The first tab, selected by default, is named Following, which it allows you to see what your friends and everyone else is sharing on Minus.

It enables you to follow other people, and view the people who are following you. Moreover, it gives you suggestions to follow uploads of new people.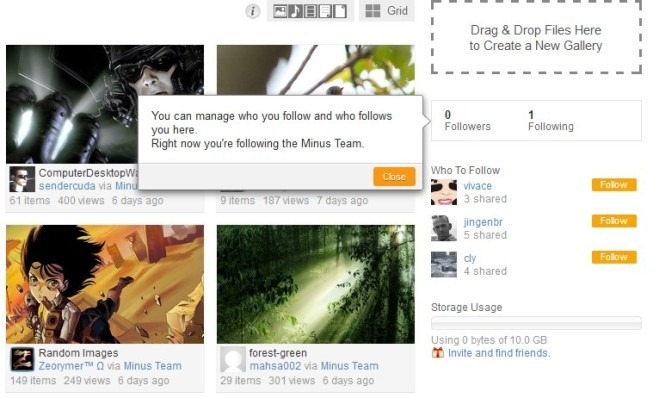 The Explore tab lets you view the most popular galleries on Minus at the moment. You can view what others are sharing, connect with users and follow them to keep up with their uploads and re-share galleries onto your own profile.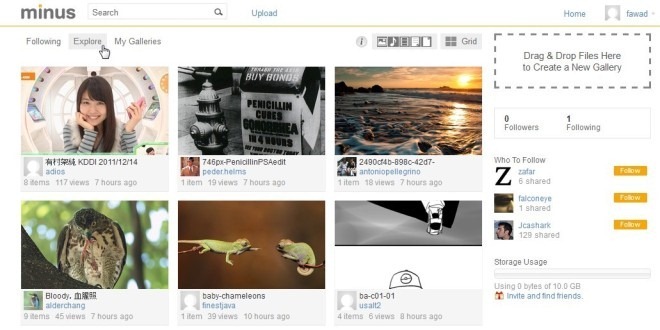 My Galleries tab allows you to share your own images, creates and manage galleries of your uploads. Just drag the images onto the interface, and they will automatically be uploaded to Minus. While uploading, it shows the progress bar at the top and information about the pictures being uploaded at the right side.