Miro 5 Adds eMusic Store, Option To Download HD Vimeo Videos & More
Back in May 2011, we covered Miro 4, a powerful media manager application with iTunes-like functionalities. What makes Miro different from other media managers is its ability to sync media files with Android-powered devices. Now, almost after one year, Miro dev team has finally released Miro 5. It brings various backend changes to the actual software. The obvious mainstay of the update is HD video downloading from Vimeo feeds and an addition of eMusic in the Stores section. It now offers better and faster device syncing and file format conversion, a new album viewing mode to categorize the music by artists or albums, and lastly, the application can now look for information about artists and songs from numerous online sources. More to follow.
For those of you who aren't familiar with Miro, the application is renowned for its stupendous amount of features and media files management options including music and video player and manager, streaming from online sources like Youtube and Hulu etc., integrated internet stores such as Amazon, Google Play Store, eMusic,  and podcasts such as Ted Talks, Cnet Mp3 insider and The smartphone show.
Please note that during installation, the installer asks to download and install AVG security toolbar, as well as set AVG Secure Search as your browser's homepage. This, however, can easily be avoided by clicking No,Thanks button.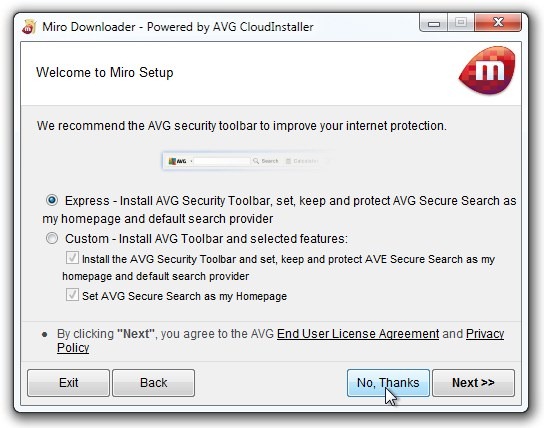 On launching the app, you might say that it look more or less the same as last year update, with the same placement of sections and navigation controls, and iTunes like gray theme. However, most of the changes have been made under the hood, making the application more powerful and robust. As mentioned earlier, the application now has eMusic in stores sections, a popular service to listen and purchase online music and audiobooks.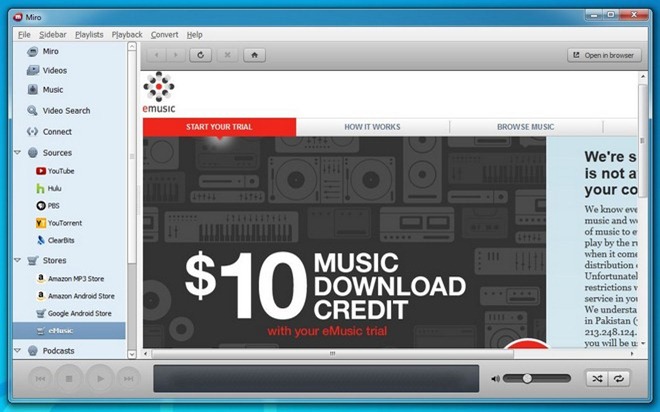 In the Preferences window, you can now enable/disable "Automatically run online lookup for any new audio files that I add to Miro" option. If enabled, you no longer have to search for any new audio file, it will automatically lookup for new audio files from different websites.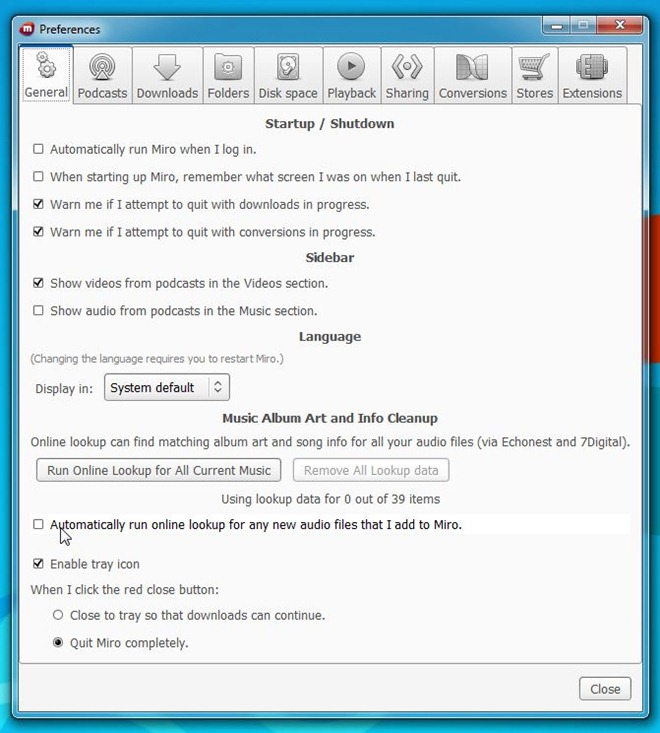 The playback quality of the player also seems to be greatly improved with better rendering and color reproduction. We tried playing a couple of different video files, comprising off different formats and the application absolutely had no problem playing them.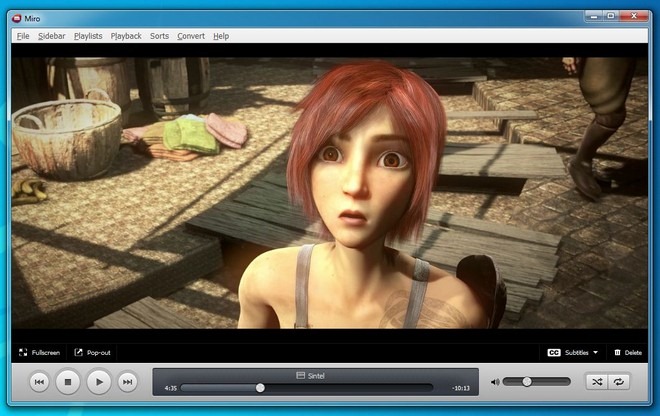 In a nutshell, a media player which already was quite good has been polished even more now. Miro 5 is available for Windows, Mac OS X and Linux. The Windows variant works on Windows XP, Windows Vista, Windows 7 and Windows 8.