Mix And Synthesize Your Favorite Music To Create A New Song
2710 DJ is a free application for Windows which allows you to mix and synthesize your favorite music. It is a complex application that contains advanced features for music junkies. It has far more options to create professional music when compared with Microsoft Songsmith, and is totally free.
You can record your own voice with the help of microphone and mix it with your favorite music. It has a build-in intelligent track suggesting feature. You can create up-to 10 small mini-players and unlimited number of music playlist. It can record to different file formats such as, MP3, WMA, OGG, or WAV format.
Below is an example of how to play music in a Sample Player.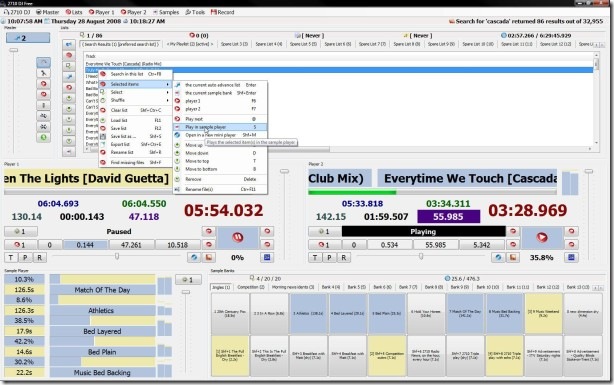 You can play the music in different modes: Tempo, Pitch, Rate, or can rotate between them.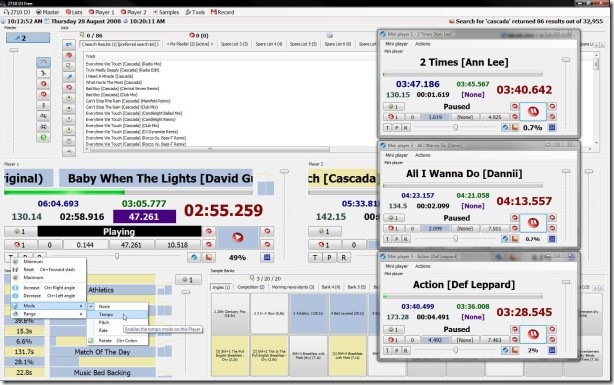 It works on Windows XP/2000/Vista and requires .NET Framework 2.0 to run. Some main features include:
Familiar dual player DJ setup
Automatic cue point detection
Integrated CD+G (karaoke) players
Create up to an additional ten mini players
Record to MP3, WMA, OGG or WAV format
Extremely fast unlimited search facility
Use any screen resolution 800×600 or higher
Unattended or manual operation
Change any keyboard shortcut
Fully featured sample player (for jingles, advertisements etc) | show
Recall play history easily
Track suggesting feature
Emergency play feature
Multiple playlists
Full drag and drop support
Accurate ´home time´ real-time calculation
Lots of file formats supported including MP3, WMA and WAV
Export your lists to a CSV file
Simple installation and setup
Detailed, easy-to-read PDF user guide
CDG file compressor to save space with your CDG files
Enjoy!