MobiText Is A Basic, Themeable Document Editor With Ribbon UI
Windows comes with the WordPad utility that provides sufficient options for most basic word processing needs. However, if you seek an application that goes beyond what WordPad has up its sleves – providing more features and options then a third-party software is the way to go. Just recently, we came across Document.Editor (reviewed here), a feature-rich application that we found to be a great alternative to WordPad. Developed by DyNiForm, MobiText is yet another similar utility that includes a handful of features to help you quickly create different types of documents such as reports, drafts, letters, resumes, memos etc. Similar to Document.Editor, it offers a ribbon-based interface. That's not all; the editor is skinnable as well (in case you rapidly get board of same UI looks). It comes packed with several different themes (Black, Blue, Metro, Windows 7 Style, Red and more) that you can easily switch between. As far as editing features are concerned, it provides you with tools sufficient for basic needs, such as copy, edit, cut, print, save, print preview, text color, spell check, indent and more. Read past the break for details.
It packs all the tools and settings are present under different tabs on the ribbon including Main Items, Text Tools, Zoom, Speech, and Insert. There's also a quick access bar at the bottom of the application window that includes some basic shortcuts (from the Main Items and Text Tools tab), along with an option to change font size. The Main Items tab holds Save, Copy, Paste, Cut, Undo, Redo etc. Additionally, you can access Print, Font Color and Spell check features as well as the aforementioned themes from within the Main Items tab.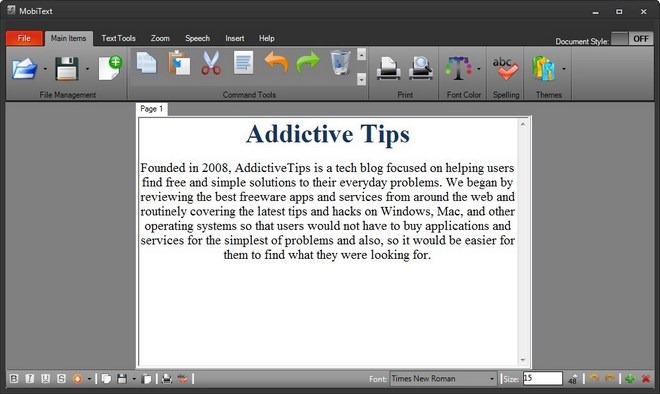 Text Tools tab houses options for manipulating the text in your documents. For example, you can change color and typeface, apply bold, italic, underline and strikethrough styles, create bullet list and add/remove indents from selected parts of the document.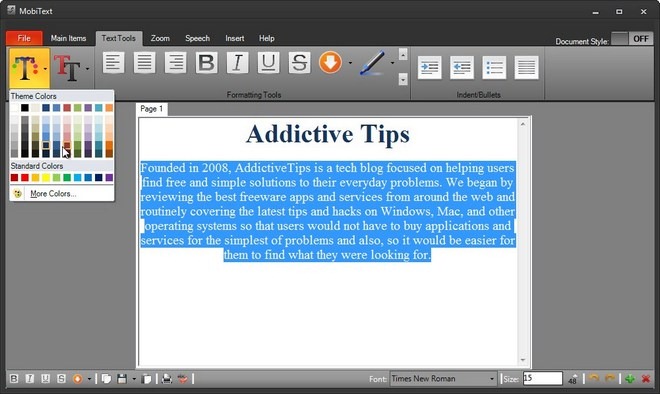 You will find text-to-speech feature in Speech tab. All you need is to highlight the text and click Play to let it read the selected text.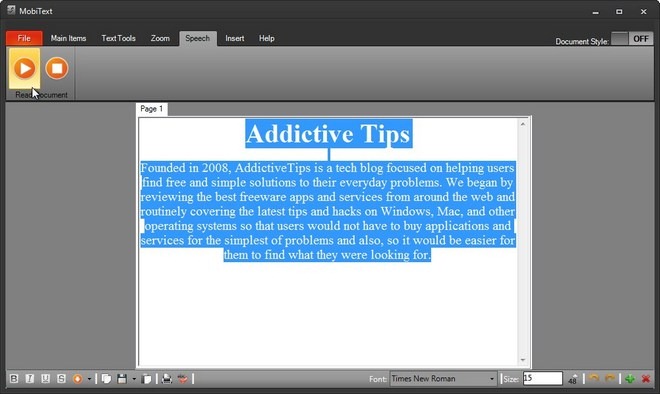 It also allows you to insert photos into documents. From Insert tab, you can insert images, date and time, and apply subscript and superscript style to text.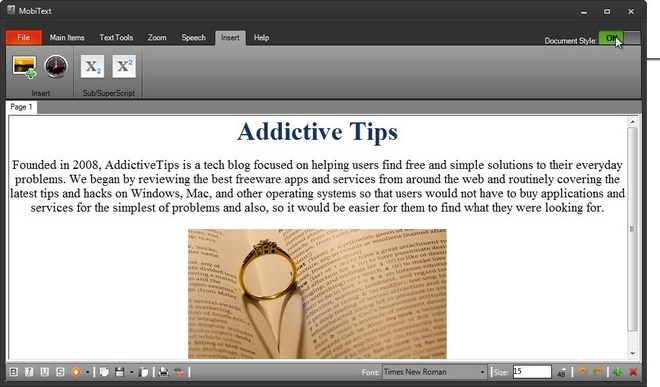 Mobitext is available for free and works on Windows XP, Windows Vista, Windows 7 and Windows 8. Both 32-bit and 64-bit OS editions are supported. Testing was carried out Windows 7 Ultimate.