MoneyMe Is A Robust Personal Finance Manager For Windows & Android
Ignorance is a bliss, but it isn't quite so when it comes down to managing your money. The sooner you start planning your budgets and expenses, the better, or you may soon end up in credit card debt due to having no money left in your bank account. Whether you're a student struggling with the tuition fee, a housewife who can't keep up with monthly grocery expenses, or a businessperson looking for investment opportunities, money does play a pivotal role in every walk of life. MoneyMe is a personal finance manager for Windows and Android that lets you track you income, expenses and debts, giving you full control over managing them effectively. The application comes packed with plenty of features and allows managing multiple financial accounts separately from one another, meaning multiple people can use the app on the same PC.
The app sports a decent user interface, housing multiple tabs at the top for each of its features. MoneyMe can help you manage and track your income, expenses, debts, budgets and discount coupons. In addition, it lets you breakdown your monthly and yearly financial data for a thorough analysis, making use of statistical graphs and diagrams for the purpose. The application window carries four tabs at the top named Options, Accounts, Administration and Statistics. To get started, you need to create a new account from the Accounts tab, but the application also comes with a demo account to help you to get acquainted with MoneyMe's various features.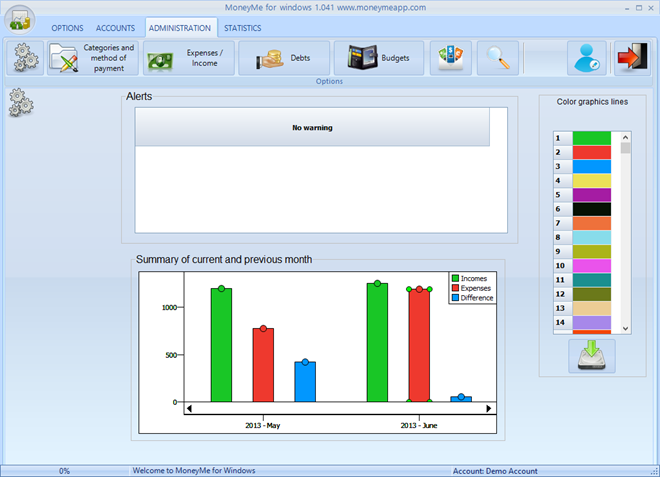 When creating an account, you are asked specify a few details such as the account name and type (local or online), currency, opening balance, date format, beginning year, number of decimals used and order of categories. If you want to sync your data with the Android app, you'll need to create an online account. The application also allows users to password-protect their accounts for added security. Clicking the 'Insert Account' button at the bottom saves your specified settings.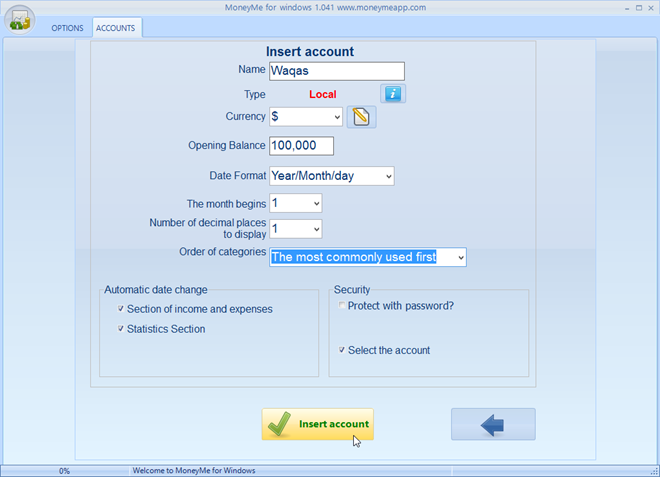 The most interesting bit about the app is the sheer number of features and options to manage your finances. It's like your complete virtual accountant recording all your financial data and always there to manage it whenever required. Unlike a few other similar tools, the application can also work offline, and can be set to automatically alert you should your monthly expenses cross a certain minimum.
The application allows tracking all kind of expensive irrespective of the fact whether its your monthly phone bill, food or your new car. Likewise, you can also store a list of your debtors, with complete information regarding how much money they owe you. It even has a discount coupon feature that lets you keep an eye on some of the best discount deals available for your purchases.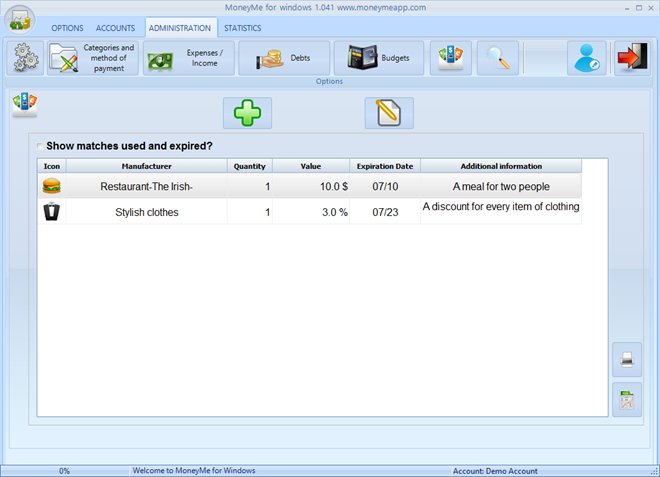 Your present and past financial data can be compared side by side by using the statistical bar charts. You can compare the data belonging to any time period from the date your account was created. The application allows you to view bar charts for incomes, expenses, total balance and their differences etc.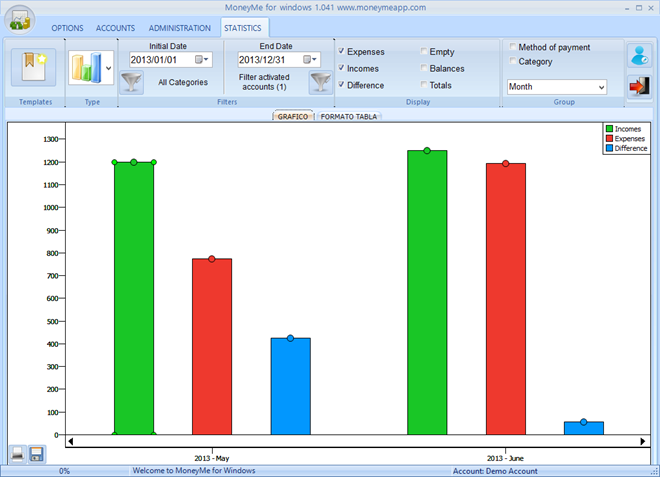 The options tab of the app allows you to change its theme and language. Other than that, you can backup and restore your data, and access tutorials in form of slideshows and videos to help you get acquainted with all of the app's features.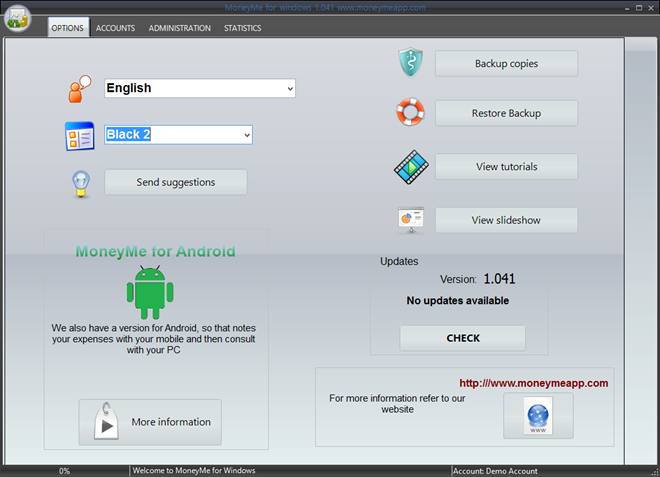 The Android app offers pretty much the same feature set as the Windows app, albeit in a mobile-optimized interface. Using the same online account on both makes the Android variant perfect for entering all your transaction details on the go, so that you don't end up forgetting them and can then easily manage them later from your PC. That said, the Android app can be used standalone in its own right too, without the need to use its Windows counterpart.
Overall, MoneyMe is a feature-laden app that offers pretty much everything one could ask for in a personal finance manager. The Windows version of the app works on Windows XP, Vista, 7 and 8. On Android, the app is available as an ad-supported free version and a $2.62 ad-free variant, but the features are identical in both.
Download MoneyMe for Android (Free)
Download MoneyMe No Ads for Android (Paid)