Monitor All Incoming Calls For Free In Windows Using SmartCallMonitor
So you have an office or home setup where you receive all calls on your PC, you have a TAPI capable hardware installed such as ISDN card and use Outlook contacts? If yes, then you are missing SmartCallMonitor. It is a free phone monitoring software for Windows that gives you complete information about the caller.
This is how it works, when you receive a call this tool will automatically search for stored data in your Outlook Contacts and provide various information about the caller, such as, name, address, etc. If the caller information is not in your Outlook Contacts, then it will use an internet reverse search service to obtain the information.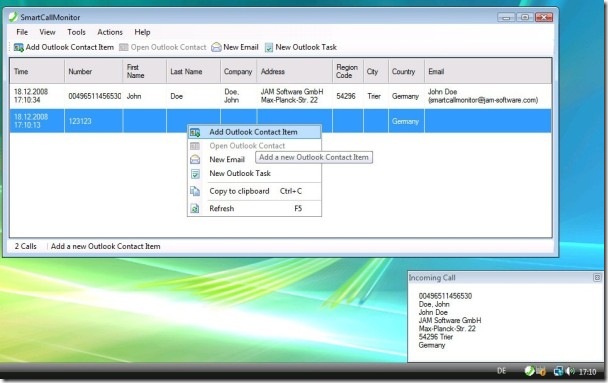 The image above is taken from developer's website
This tool simplifies the incoming calls, thus giving you an option as to whose call to accept and whose to reject. It will also show the calls that were not accepted, i.e missed calls. Further you can see the date and time each calls were made and add caller to contacts if he is not already present.
Overall, it is a must-have tool in my opinion if you are working in office and receive tons of calls on your PC. It works on Windows 2000, Windows XP, Windows 2003/2008 Server, Windows Vista, and Windows 7.
For more, also check out TinyTalk, a free little utility that lets you call your friends or co-workers over LAN or Internet. Enjoy!