Monitor And Troubleshoot Faulty Cable Modem Internet Connection
If your cable modem connection is causing problems for you, or you're facing regular disconnections, packet losses or any other abnormal activity, then CMWatcher is what you need to troubleshoot the problem. It is a lightweight tool that runs in your PC's system tray (Windows only) and allows you to quickly and easily monitor your cable modem and take screenshot records of any irregularity or abnormal activity. This can prove really helpful in diagnosing intermittent connection failure that may otherwise go unnoticed.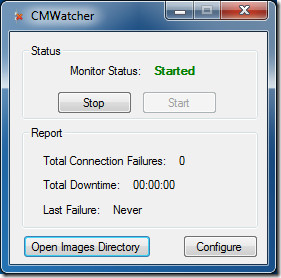 When you install the tool for the first time, you'll need to configure the settings to point at your cable modem. There is one preset profile available, although advanced users have the choice of configuring everything themselves, including path to the modem's log page, signal status page, IP address etc. The program will monitor any packet losses and downtimes, take snapshots of the modem status page when this happens. It will then save those screenshots in a predefined folder on your PC where you can review and monitor them, or send it to your cable company to fix the faulty connection.
CMWatcher can come in really handy if you have a faulty cable-modem internet connection. It works on all versions of Windows, we tested it in Windows 7 x86 system.