Monitor Any Changes Made In Your Folder With Directory Monitor
Directory Monitor is a free app for Windows that lets you monitor any folder or directory easily. It is like a surveillance tool that keeps check on your directories for any file changes, modifications, deletions and new files. You can also monitor hidden directories and folders.
Just add the directories you want to monitor and it will automatically begin tracking them. Apart from your local directory, you can also add directory over the network.
When any changes will be made to the added directories, you will immediately get notified with a balloon notification.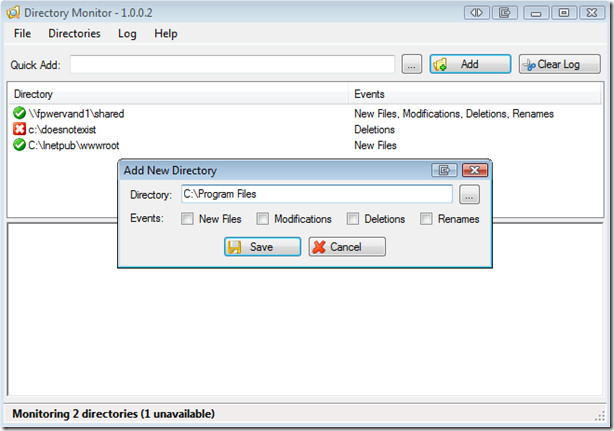 It keeps a log on all the activities which you can export if you want. You can also select when to update, refresh directories, notify you, etc from the preferences.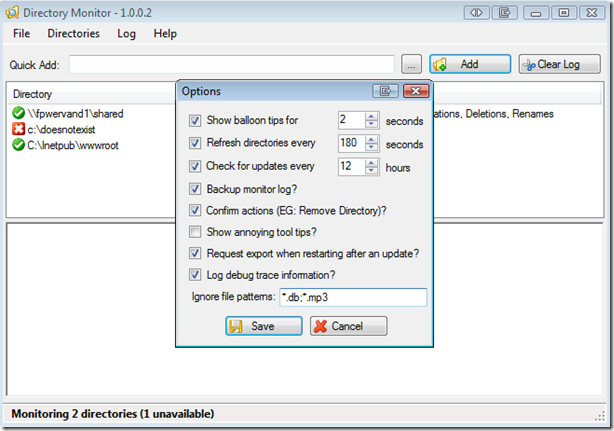 It requires .NET 3.1 SP1 to run and works on Windows XP/2003/Vista. Some Features include:
Monitor directories for file changes, modifications, deletions and new files.
Monitor local directories or network shares (including hidden shares).
Optionally execute an application when an event occurs.
Quickly tell if a directory is available and being monitored.
Balloon notifications whenever an event is fired.
Auto updating, import/export and more.
Filter out specific file extensions.
Enjoy!