Monitor Your Daily Facebook Usage In Real-Time With TimeRabbit
You will find a truckload of articles on the internet ranging from 101 ways to avoid wasting time on Facebook to 10 signs your dog doesn't like you. Though have you ever wondered how much time do you really spend on the most popular social networking service on our planet? Or do you even waste it at all? Well, we're not going to disclose another 'secret' on how to keep yourself from using Facebook, but rather share a simple utility to let you measure the time you spend on it and, at the end, decide yourself whether to do something about it or not. The Windows tool is called TimeRabbit and does a great job monitoring every second, minute and hour of your Facebook usage. So, how does it work? Read on to find out.
According to a study conducted back in 2012, it was revealed that an average user spends around 6.9 hours per month on social networking sites. Since Facebook has been reigning the throne for quite sometime now, many people spend more time using it then any of the other social networks like Google+ or Twitter. Coming back to the app, it does a marvelous job tracking the time you spend on the site, and using doesn't just mean it's open in one of your browser's tabs, but is rather based on how often you actually interact with it. The application automatically figures out when you're active on it by monitoring the 'facebook.com' URL in your browser, and starts the countdown only when the pertaining browser tab is active. It displays total seconds, minutes and hours of usage in real time. Judging by the Facebook tab within the interface of TimeRabbit, it's quite likely that more services will also be added later down the road.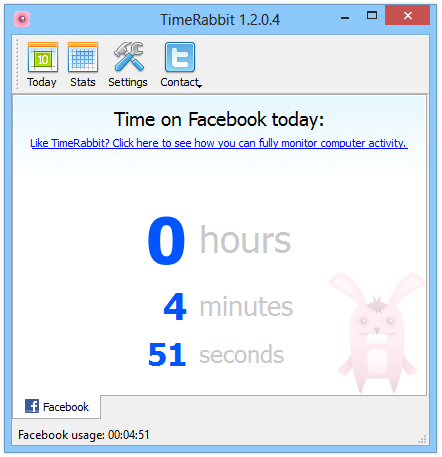 Apart from the ticking clock under Today, you can also click the Stats button at the top and the app will let you view how much time you spent over Facebook yesterday, and even in your lifetime (which is actually the time since the app was installed on your system). The application doesn't, however, let you reset the timer. The interesting bit however is that TimeRabbit works with all major web browsers including Firefox, Chrome and Internet Explorer 7, 8 and 9 (but not on IE 10, for some reason).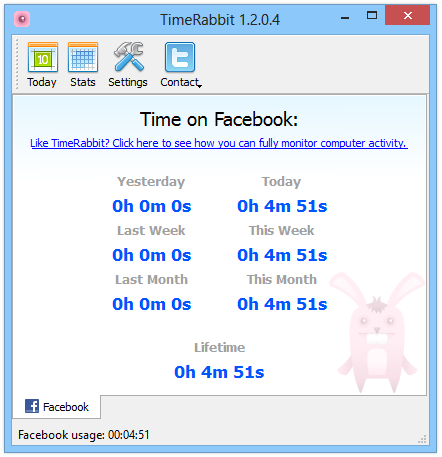 The Settings area of the application only lets you specify the starting day of the week (Sunday or Monday) and the time the day starts at. Lastly, you can also set the app to start automatically with Windows startup.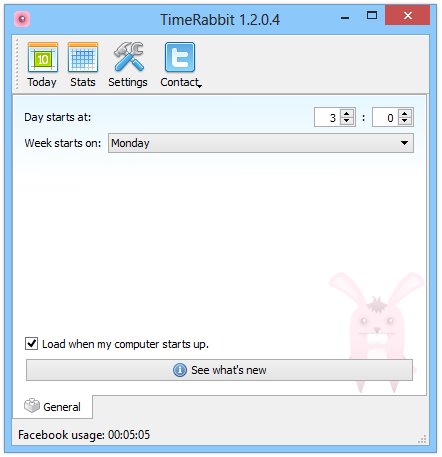 TimeRabbit works on Windows XP, Windows Vista, Windows 7 and Windows 8. Both 32 bit and 64 bit versions of the OS are supported.
[via Lifehacker]