Monitor 'File Size' For Changes With Size Matters
Size Matters is a portable application to keep an eye on size of specified files. Although it's not as feature rich as SizeOnDisk, it provides a handy auto-refresh option to periodically check selected files for continuous disk space consumption. Monitoring files in this way has two advantages. First, you can quickly identify files which are consuming excessive disk space, and secondly, you can check the change in file size for a set period of time. For example, if you are downloading a file which has an unidentified file size, it may become necessary to monitor file size changes, as it can end up taking huge amount of disk space. This can result in loss of access to your computer due to lack of disk space. Similarly, virtual machines, torrent downloads and the like can consume a large chunk of hard disk space and require periodic monitoring.
To start monitoring files, click New from toolbar and drag files or folders over the main interface. When you add folders to Size Matters, it instantly loads all files (within the specified folder) for monitoring. The main interface provides information such as file name, size and path of each file.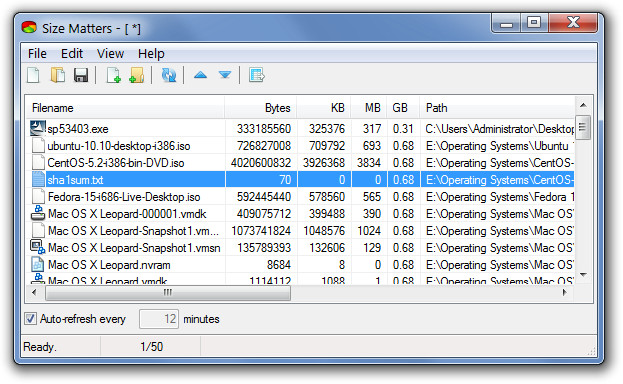 To auto-refresh file size, specify a file size update time (at bottom of interface) and then enable Auto Refresh option. This will refresh the file size after defined period of time e.g. after every 1 minute. You can save the file listing in CSV or TXT format. Size Matters works on Windows XP, Windows Vista and Windows 7.