Monitor FTP Server Changes With FTP Guard
FTP Guard is a FTP server monitoring application which is developed to keep tab on all the changes which may occur in user-defined directory. Web publishers and system administrators who want to instantly look for modifications and updates regarding file structures/folder hierarchy will find this useful. The application has an ability of monitoring content in two modes – automatic and manual. You can either go for manual inspection of file structures and folders or let it automate the whole monitoring system. By default, it checks for changes after every 10 minutes, however, time interval can be changed in order to minimize network bandwidth usage.
The application usage is pretty straightforward, for the first time usage, you need to add a connection with all FTP details including, host name, directory to be monitored (by default it monitors root directory), FTP username and password, etc.
FTP server monitoring can be toggled on/off from bottom-left corner, alongside, you can turn the alarm on to buzz you on finding any sort of changes. Types of changes are listed under Monitoring Settings window. It keeps file deletion, modification, and addition under tight scrutiny. Other connection-related issues, such as, error-raising and error-fixing can also be enabled and disabled.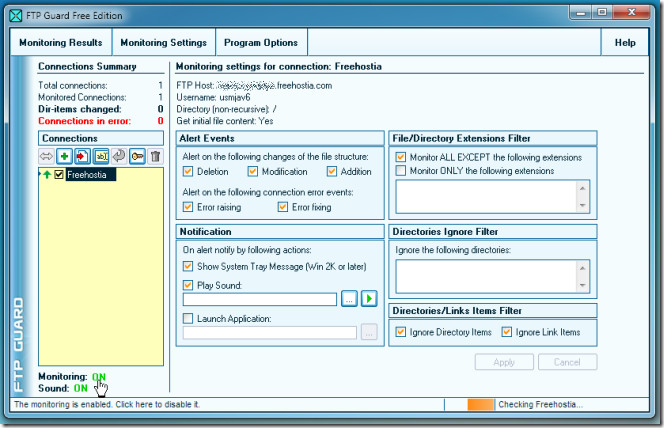 In addition, it supports user-defined file (or directory) filters to monitor only specific set of file extensions and folders. Likewise, directory ignore list lets you exclude content from the monitoring process.
Changelog is shown under Monitoring Results window, where it will list all the files (and directories) which have been changed in defined span of time. From its system tray menu, users can enable or disable monitoring and sound alarm.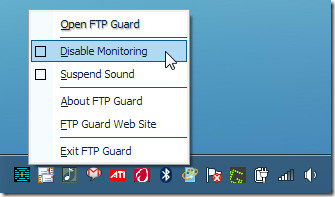 Whether it finds a change in file structure or with FTP server connection, it will notify you with an alert.

FTP Guard Free Edition can monitor only 1 FTP server connection, which we do not consider to be a big downside for a user intending to check only one website. However, we believe the developers behind this app needs to work more on the GUI because the current version looks a bit cluttered and might not appeal to the masses. It works on Windows XP/Vista/7. Testing was done on Windows 7 x64 system.