Monitor Health Of Upto 10 Servers In Network With Windows Health Monitor
Windows Health Monitor is a powerful monitoring utility which is developed by ManageEngine – famous for developing Enterprise IT Management Software. The free application is designed for large-scale network models, where system administrators are dealing with more than 100 nodes with around 10 servers working simultaneously. While it is compatible with both commonly used Windows Server 2003 and Windows Server 2008, it can be used in a small LAN as well, where systems are running Windows XP, Windows Vista and Windows 7.  As far as inspection is concerned, it is designed to monitor bandwidth and disks utilization, including disc space, read & write functions, and network traffic with an option to define a threshold in order to consistently observe CPU and memory utilization of running servers. The application monitors all the elements in real-time, however, you can specify refresh time according to your requirements.
The application interface offers a simple dashboard where you can view all the nodes and servers which are being inspected. For the first time, servers have to be added, it requires you to enter server name, followed by workgroup/domain name, and account details to start monitoring. All the servers and systems are listed down in left sidebar. It displays only those servers on the main interface whose CPU and memory, and disk utilization are comparatively higher than others.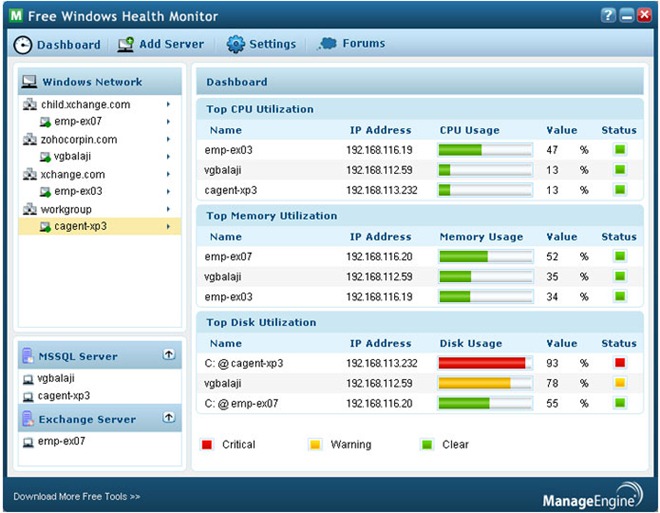 Apart from the generic view, you can also check the system monitoring details exclusively. Just select the server from the left flank to review CPU, Memory and Disk space details along with bandwidth traffic status.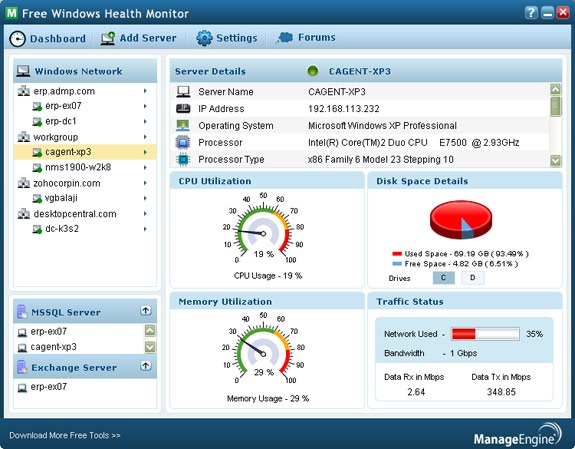 As said before, it can also warn you about the critical resource utilization. Click Settings to define the CPU, Memory, and Disk Space thresholds and refresh rate. When threshold is trespassed, it will immediately notify you about the situation.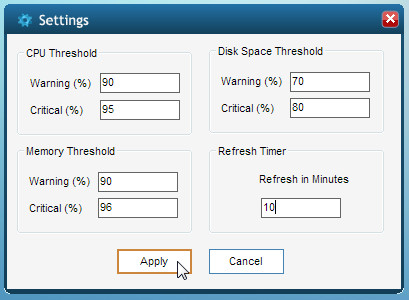 The application is inclined largely towards power users, but users with limited set of network-specific knowledge can also make use of it, as it requires nothing except entering server details to begin monitoring. Testing was done on Windows 7 x64 system.
Download Windows Health Monitor