Monitor Network Bandwidth And Port-Occupying System Processes
We have reviewed many network traffic monitoring applications. While some of them provide details about bandwidth usage, such as, BitMeter OS, others like SmartSniff inspect network traffic which passes through a network adapter. When monitoring the network, one may need more information than merely just the bandwidth usage, or number of associated connections. Free Process Traffic Monitor is a network application for PCs, servers, and individual interfaces, which monitors the traffic of all the port-occupying processes. Not does it only display incoming and outgoing traffic usage (of a client, server computer or network interface) but also lists and displays performance metrics of the concerned processes. It calculates traffic generated by each process by mapping the traffic of the ports being used by them.  The tool provides traffic usage and process details by logically grouping relevant information. The primary information of Process Traffic Monitor is displayed in two separate tabs, namely, Interface Traffic and Process Traffic tabs.
The Process Traffic tab provides a graphical chart to display outgoing and incoming traffic stats. You can choose to monitor either a specific network interface or all connections from the drop down menu.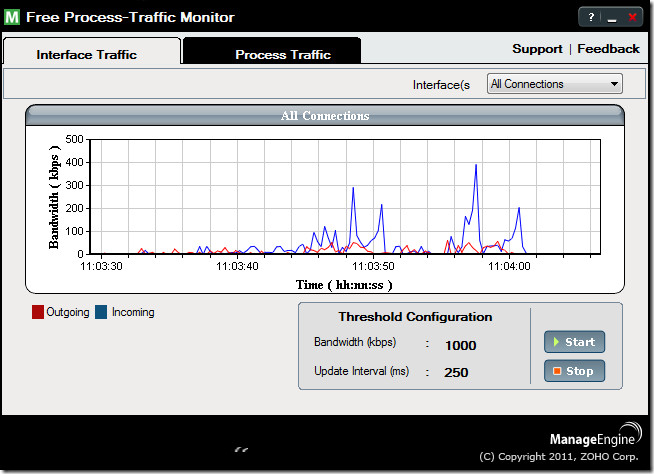 The Interface Traffic tab displays a list of all processes, PID, local ports, CPU, Memory and bandwidth information of a specific client or server machine. Such information can be useful to check the load on a server and its network interface, as well as, to check process ports. You can cease working of any active process through End process option. While this task can be performed from the task manager as well, Windows Task Manager does not display port-occupying processes separately.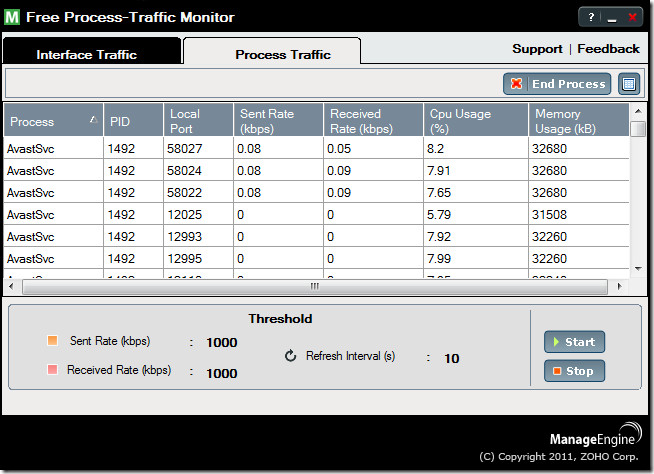 You can also add extra categories to extend monitoring options from Column Chooser button (next to End Process) located on the Process Traffic tab.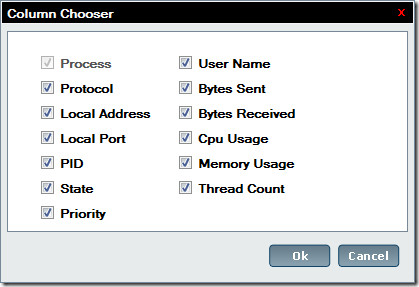 Process Traffic Monitor also sends system tray notifications when the network bandwidth usage exceeds the maximum threshold. This can be helpful to identify and sort out excessive bandwidth usage issues which may choke the connection and cause other network computers to face limited availability of internet bandwidth.

To use Process Traffic Monitor, you will first require installing WinCap (download link given below). Process Traffic Monitor works on Windows XP, Windows Vista and Windows 7.
Download Free Process Traffic Monitor