Monitor The Total Time Spend On Computer With Counter
Do you want to monitor the total time your server was ON? Or maybe you just want to keep track of the time you spend on the computer daily. So far Windows does not have any build-in feature to count the total time the computer remained on.
Counter is a free tool for Windows that counts the total time spend on the computer. It also counts the total time spend after restart, in the current day, in the current month, and the total overall time spend. It can also show a detailed view of time spend every day and every month, so that you can keep track of your computer activity. If you are a server administrator, this can be a good tool to track the uptime of your servers too.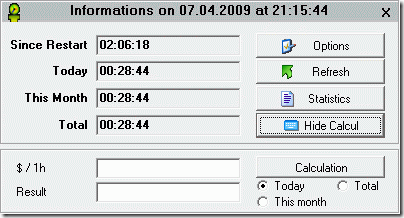 It comes with two themes, default and classic. The screenshots have been taken in classic theme, the default theme is way too bright. In options, You can choose the refresh time interval and also select to start the tool during system startup. Apart from it you can also change Windows and Visual options, to change the theme to classic, uncheck the Use Modern Skin checkbox.
The main program only shows four counters, since restart, today, this month, and total. What if you want to see the time for a specific day or month? This is where Statistics window comes in.
There is also a build-in calculator that calculates the dollar per hour for a current day, total time, or current month. This feature is useful for calculating the cost of electrical energy, only if you know how much wattz your computer spends per hour. Enjoy!